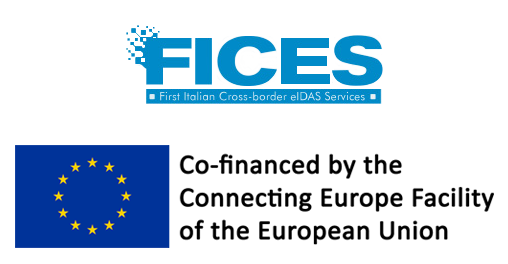 On June 11th from 10:00 am to 01:00 pm we will meet in Milan at Palazzo Turati for the final workshop of FICES (First Italian Cross-border eIDAS Services), a project funded by EU Commission within the CEF program (Connecting Europe Facility), with many important guests.
FROM FICEP (FIRST ITALIAN CROSSBORDER EIDAS PROXY) TO FICES
FICES project has been started one year ago, with the scope to enable EU citizens to be logged – using Digital Identity released by their own Country – on specific services offered by Italian companies.
To reach this goal, FICES use the OpenPay infrastructure (Opentech property), that connect the banks to mobile payment and mobile ticketing services, and also interconnections nodes between National Identity systems already realized within the FICEP field (First Italian Crossborder eIDAS Proxy). On May, 22nd FICEP has been selected within 100 projects that won an award on the "Public Administration sustainability on 2030 agenda".
InfoCert it's been an operating and financial coordinator on FICES project, It realized specific interfaces towards authentication nodes, and gave its trusted services eIDAS compliant, distributed by Opentech, to mobile app users of financial institutes which were involved.
THE EVENT: A STEP TOWARDS THE EUROPEAN DIGITAL SINGLE MARKET
During this event, all the companies involved in this initiative shall have the opportunity to share important steps achieved towards the complete interoperability of eID of EU citizens to further access to private providers' services.
During the event shall be attended journalists, representatives of public institutions, (DGConnect, Banca d'Italia, Estonian Embassy ), business partners, top clients of those companies that gave its contribute on this experimentation: InfoCert, Opentech, BNL, Europ Assistance Italia S.p.A., and the mobile ticketing operator Smarticket.it.
Share this article on: