InfoCert
Go faster with your business, GoSign
eSign, storage and share every kind of document, anywhere and anytime, with the highest legal value according to eIDAS european regulations.
How many time do you need to manage an 

approval process?
​
Many companies still rely on paper for approval processes, printing, transferring and physically signing, with the risk of delaying agreements or hindering sales.​
Don't waste time and opportunities, move to 

a fully digital approval workflow with 

GoSign

!
​
Get any documents signed from any device, in just a few minutes. GoSign is the solution that revolutionize your signature workflows, the best on trust, safety and time saving. ​
​
Easy, share and sign
3 

simple

 steps to 

sign

 

documents

, 

contracts

, 

approvals

​.
CFO
Just sent you the agency proposal
CMO
Already approved before flight departure 🙂
CFO
You are a step ahead, always!
1. Prepare

 

documents
2. Define

 

receipints

 and 

workflow
3. Get

 

documents

 

signed
Omnichannel: sign anywhere, anytime, from any device.
Easily interact with colleagues, suppliers or customers from remote, immediately executing your decisions.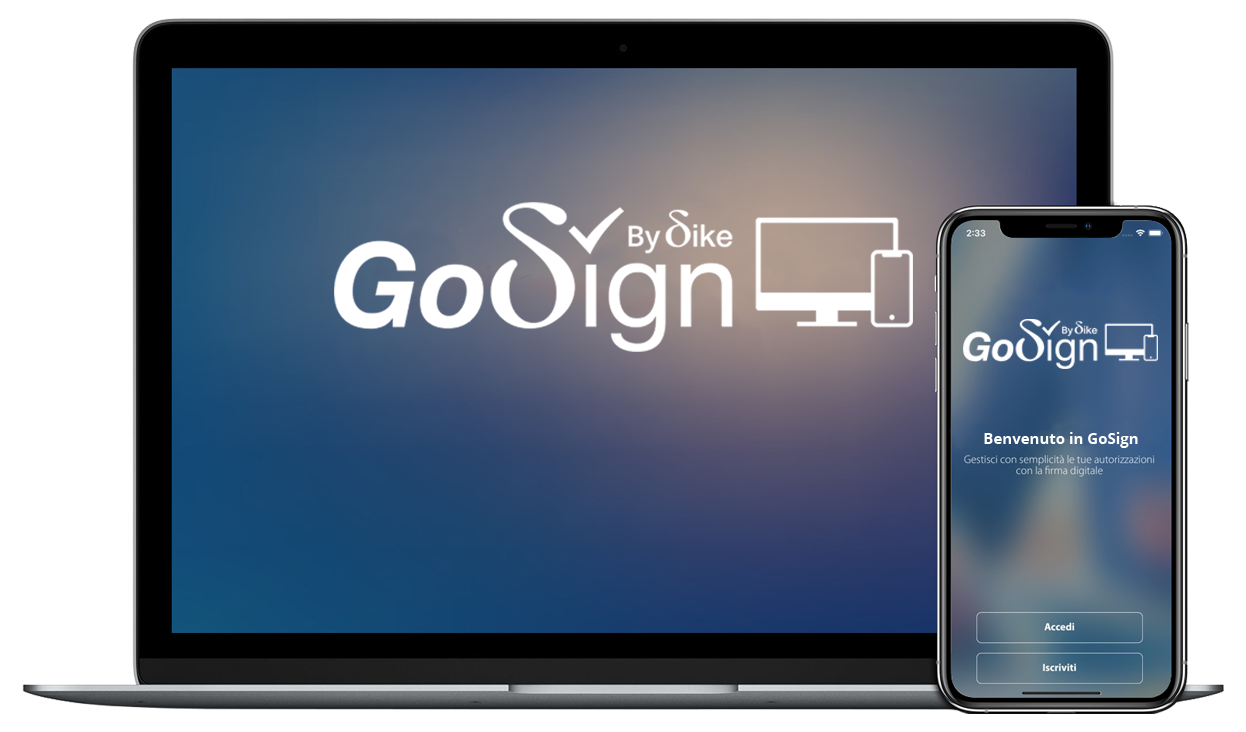 Flexible, the level of trust and compliance you need in every document

Suitable for low-risk transactions such as internal approvals. Very easy to use

Advanced electronic signature​
Based on a digital certificate and unequivocal identification of the signatory. A good compromise between trust and UX.

Qualified electronic signature​
Based on an eIDAS-compliant Qualified Digital Certificate issued by InfoCert. It guarantees 100% legal value of a transaction.
Multipurpose, manage every kind of signature workflow for any processes
Internal approval processes
For company departments, in different geographical areas and integrated with existing systems.
B2E processes
To dematerialize the relationship with employees and manage HR processes .
B2B processes
To dematerialize procurement processes and manage contracts with suppliers and partners .
B2C processes
To interact with clients and remote contract subscription .
Reduce costs
Highly cost efficient with imminent cost savings
Enforce security and compliance
GoSign is compliant with eIDAS regulation ensuring the highest level of trust
Improve Efficiency
Reduce approval time with an easy to use solution with full legal value
Reduce risks
Fully auditable with real time tracking
Customer stories
"We are trying to simplify both internal and external processes to become a paperless company. A big part of our strategy has been using GoSign to start reducing the millions of documents that wsign and, by law, must archive for years."​
​Energy sector executive​
+55% efficiency reducing time and costs​
+177% ROI​
We guide you in a digital (trust) world
Deep analysis
Each company is different: we deeply analyze your processes to understand how to improve them.
Flexible Design
We design the most suitable solution for a measurable increasing value in your processes and with full legal compliance.
Agile Delivery
We easily enroll our solution into your existing application easily.
Trusted by over 2.200 companies
Request Information
Complete the form and send us your request, and we will contact you as soon as possible!