InfoCert, uno dei Sample Vendors riconosciuti da Gartner per la Decentralized Identity può supportarti nel valutare queste soluzioni
Report attualmente non disponibile per il download.
Se vuoi saperne di più sulle nostre soluzioni, puoi comunque compilare il form per essere ricontattato.
Affrettati, la possibilità di scaricare il Report gratuitamente terminerà tra:
"Il nostro Hype Cycle del 2021 evidenzia le tecnologie emergent che impatteranno significativamente il business e la società nei prossimi 10 anni. Include tecnologie che accelerano la crescita, "sistematizzano"il Trust e la sicurezza e portano ordine al caos di un mondo in perenne cambiamento".
The Hype Cycle
"Hype Cycle for Emerging Technologies" è un report unico tra gli Hype cycle di Gartner perchè sintetizza insight da più di 1500 tecnologie che Gartner profila ogni anno in un set di tecnologie emergenti "must-know". Abbiamo selezionato le tecnologie in questo report per iI loro potenziale in termini di benefici e il loro vasto impatto nel business e nella società.
Temi nelle Tecnologie Emergenti
In questa iterazione dell'Hype Cycle si sottolineano tre temi che allineano i temi generali identificati in altri Hype cycle, come identificato nel repot speciale, 2021 Hype Cycles: Innovating Delivery Through Trust, Growth and Change. Quest'anno le tecnologie emergenti si focalizzano su "engineering Trust", "accelerating growth" e "sculpting change". Questi principi guida supportano nel direzionare le tecnologie e le innovazioni necessarie a gestire i cambimenti che verranno.
Engineering trust
Come minimo, il concetto di Trust richiede sicurezza e affidabilità. Ad ogni modo il Trust – la "fiducia" quindi – qui si estende anche nel costruire innovazioni che siano un core resiliente e che faccia da fondamento per la parte IT al fine di erogare Business Value. Questa "fondazione" può consistere in working practices e innovazioni che siano ingegnerizzabili, ripetibili, sicure, testate e scalabili. I rischi per il business deveno essere minimizzati o gestiti così che la parte IT possa supportare il business. La resilienza è la parola chiave sia dal punto di vista di business che di tecnologia. La Scalabilità e la ripetibilità aiutano a costruire un Business Core resiliente.
Riguardo l'engineering trust è possible esaminare le seguenti tecnologie:
Sovereign cloud
Machine-readable legislation
Decentralized identity
Decentralized finance
Nonfungible tokens (NFT)
Homomorphic encryption
Active metadata management
Data fabric
Real-time incident center
Employee communications applications
Accelerating growth
Una volta che il "Trusted Core" di Business è stato stabilito, si può lavorare sulla crescita. Gli obiettivi legati alla crescita dovrebbero essere raggiungibili. Qui il rischio è gestibile in step incrementali, quando si scontra con i Business Needs. Il rischio tecnologico è bilanciato dall' "appetite" per il rischio di Business "usando gli Hype Cycle", e da obiettivi fattibili e a breve termine. Una volta che il core dell'innovazione sta scalando, le tecnologie categorizzate come "accelerating growth" aumentano il valore. A questo punto il comparto IT potenziato e più "agile" può condurre a obiettivi ancora più sfidanti.
Riguardo l'accelerate growth è possible esaminare le seguenti tecnologie:
Multiexperience
Industry cloud
AI-driven innovation
Quantum ML
Generative AI
Digital humans
Sculpting change
Il Cambiamento è tradizionalmente disruptive e spesso collegato al concetto di caos, ma le organizzazioni possono usare l'innovazione per "Modellare il cambiamento" – Sculpting change appunto – e portare ordine al caos. Il segreto è anticipare e regolare il bisogno al cambiamento. L'Esperienza aiuta a scalare i business drivers. Il rischio può aiutare le innovazioni ad adattarsi al "modellare il cambiamento", ma questo rischio deve rimanere gestibile. In questo modo il cambiamento può essere modellato mentre la fase di delivery viene gestita.
Riguardo lo Sculpting Change, è possible esaminare le seguenti tecnologie:
Composable applications
Composable networks
AI-augmented design
AI-augmented software engineering
Physics-informed AI
Influence engineering
Digital platform conductor tools
Named data networking
Self-integrating applications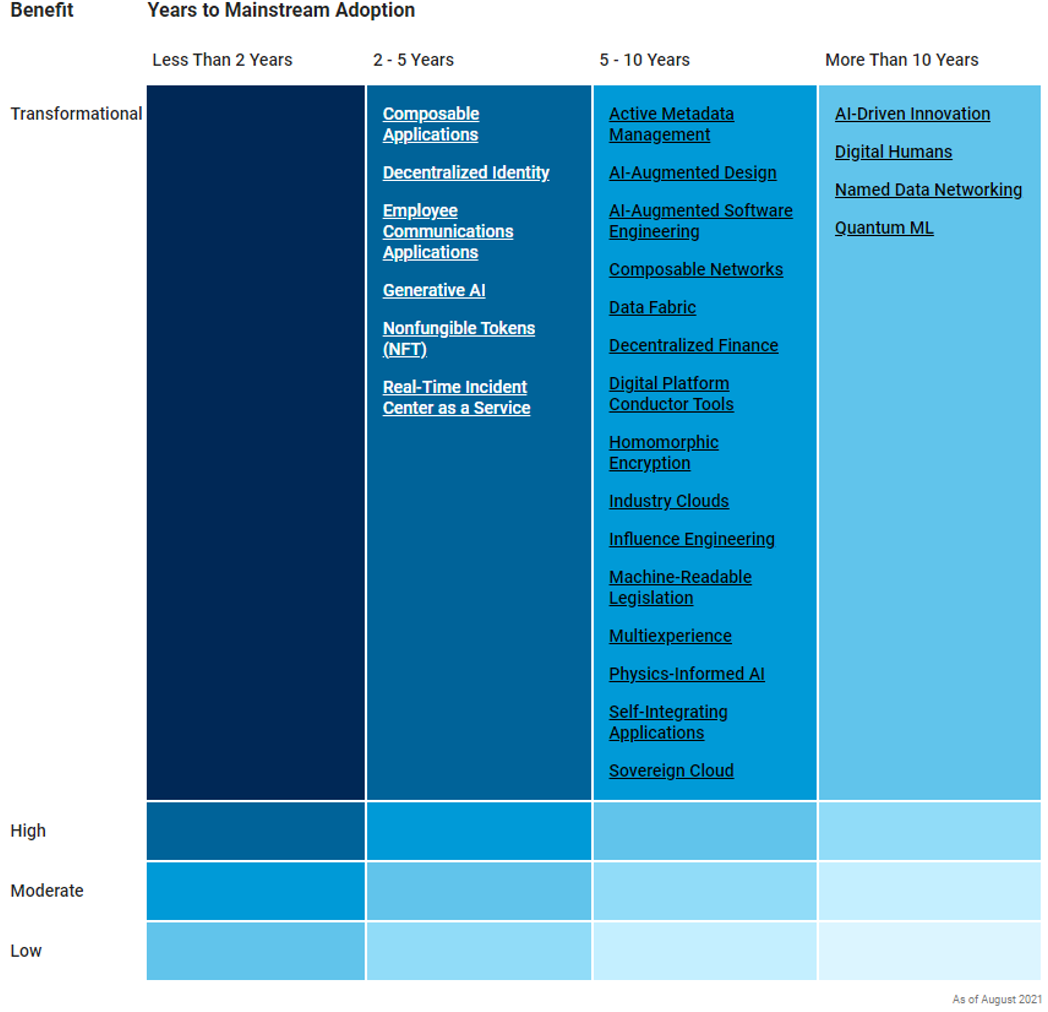 La Priority Matrix illustra le tecnologie mappate con, la dimensione temporale nella quale ci si aspetta che arrivino a maturazione per adozione e per il livello di benefici apportati, ed il livello di profondita e peso del beneficio che si può attendere dagli stessi.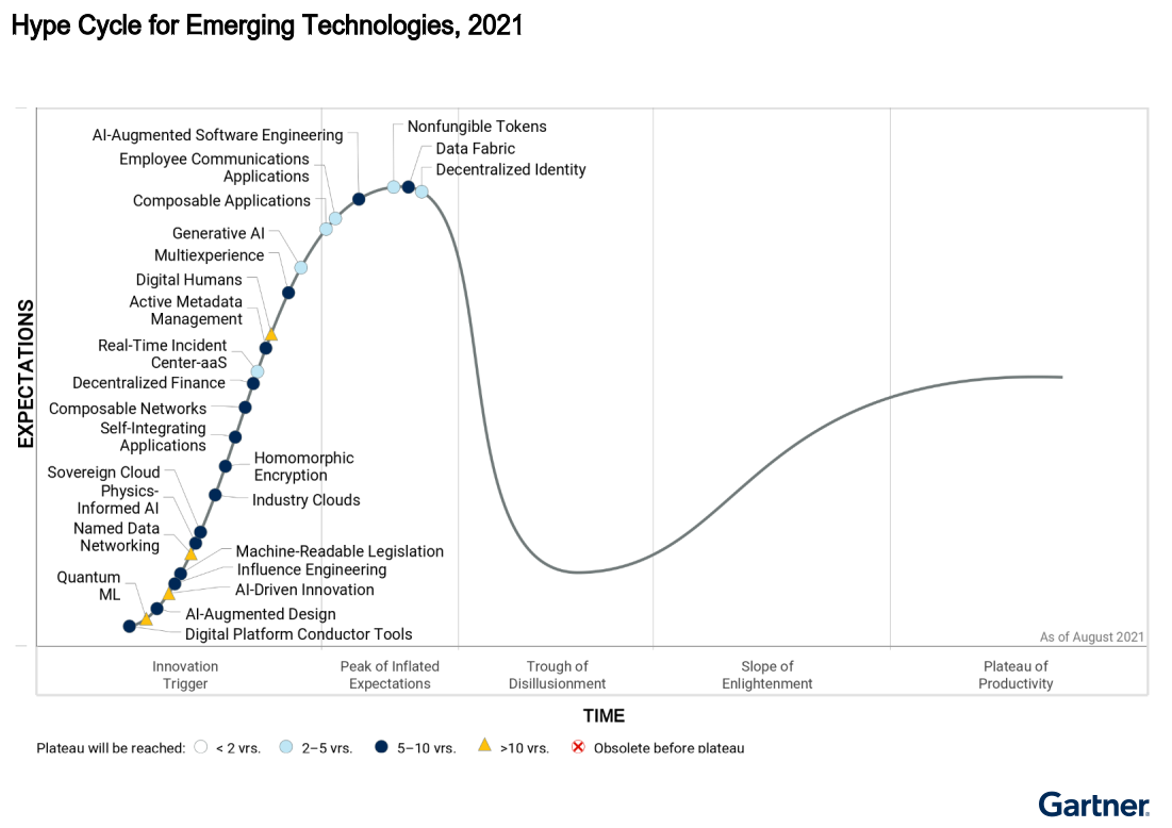 InfoCert, uno dei Vendor riconosciuti da Gartner, può supportare la tua Organizzazione ai benefici di tecnologie quali la Decentralized Identity
Compila il form per scaricare il Report
Compila il form per saperne di più sulle nostre soluzioni
Gartner, Hype Cycle Emerging Technologies, 2021, 11 August 2021, Brian Burke, Melissa Davis, Philip Dawson.
Gartner does not endorse any vendor, product or service depicted in its research publications, and does not advise technology users to select only those vendors with the highest ratings or other designation. Gartner research publications consist of the opinions of Gartner's research organization and should not be construed as statements of fact. Gartner disclaims all warranties, expressed or implied, with respect to this research, including any warranties of merchantability or fitness for a particular purpose.GARTNER and Hype Cycle are registered trademarks and service mark of Gartner, Inc. and/or its affiliates in the U.S. and internationally and are used herein with permission. All rights reserved.This graphic was published by Gartner, Inc. as part of a larger research document and should be evaluated in the context of the entire document. The Gartner document is available upon request from InfoCert S.P.A