InfoCert, uno dei Sample Vendors riconosciuti da Gartner per la Decentralized Identity, può supportarti nell'approfondire queste soluzioni.
Report attualmente non disponibile per il download.
Se vuoi saperne di più sulle nostre soluzioni, puoi comunque compilare il form per essere ricontattato.
Affrettati, la possibilità di scaricare il Report gratuitamente terminerà tra:
"I Leader della Security & risk management che gestiscono tecnologia ed information and resilience risk considerano il tema Privacy come una delle prime priorità. In questo Hype Cycle viene descritta la tecnologia che protegge i dato personali ed il suo business value per supportare il Trust tra individui ed organizzazioni. Usa questo Hype Cycle pr gestire e prioritarizzare rischi ed investimenti"
The Hype Cycle
"Una struttura "matura" di Privacy può essere raggiunta solo con l'uso del privacy management, privacy control e ( tipicamente data-centric) security capabilities. Essendo trasversale a vari contesti ed ambiti, la privacy è molto di più di una disciplina security-only. I Leader della SRM devno mantenere  una working relationship con tutte le business units per promuovere e coordinare attivamente azioni a favore della compliance.
Per esempio, alcune opportunità possono essere trovate col business process reengineering, la quale non nè una disciplina security-specific, nè una IT-specific discipline. Similarmente l'applicazione della data minimization per il ciclo di vita dei dati è più una disciplina – un approccio – che non una tecnologia. D'altra parte gli SRM leaders sono in una posizione in cui facilitare proattivamente il raggiungimento di obiettivi di business attraverso analytics e business intelligence attraverso l'uso di controlli data-centric come i synthetic data o lsa differential privacy.
Oltre alle sanzioni, la privacy risk mitigation si focalizza in primis nel "postbreach financial risks" , "consumer trust decay" e sul "brand damage". Le tecnologie evidenziate in questo Hype Cycle:
Abilitare o potenziare il controllo sull'uso dei personal data ( per esempio, discovery and data classification).
Creare trasparenza e dimostrare compliance ( per esempio, privacy management tools).
Mitigare il rischio di data "data misuse" ( per esempio, zero-knowledge proofs e homomorphic encryption).
Mitigare l'impatto delle "unintended consequences" (per esempio, format-preserving encryption).
Aiuti attraverso il procedural decision-making per la riduzione del rischio ( per esempio, privacy by design).
Migliora la customer experience (per esempio, influence engineering, che è di nuova entrate nell'Hype Cycle).
Altri profili innovative aggiunti all' Hype Cycle quest'anno sono il federated machine learning, e la sovereign cloud."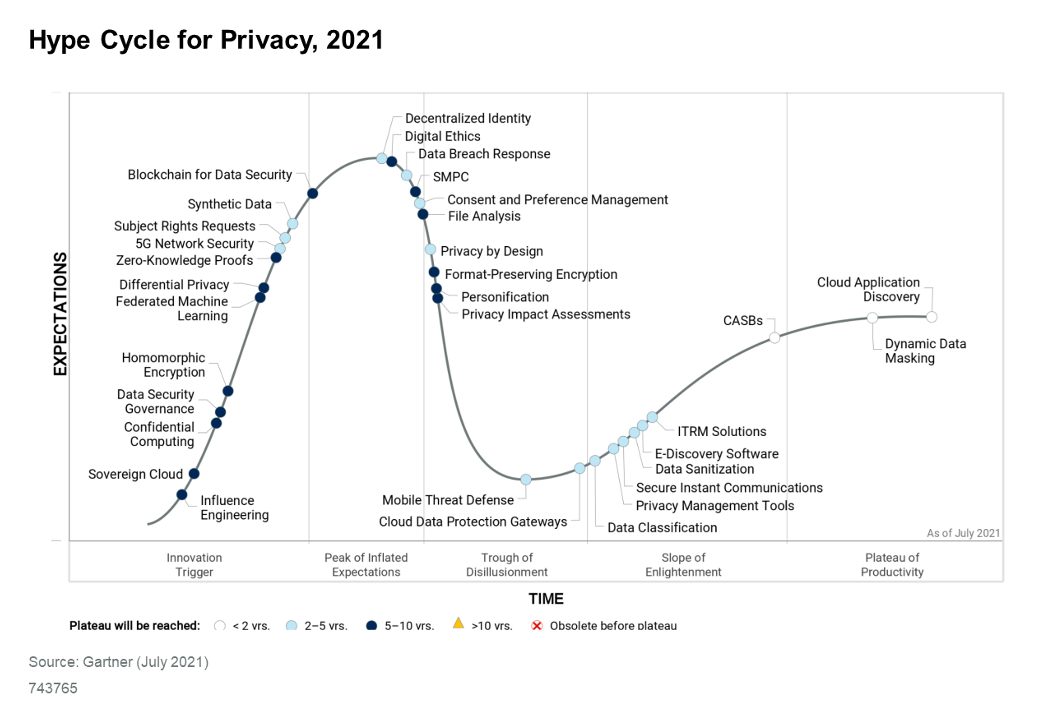 Lascia che InfoCert, un fornitore riconosciuto da Gartner, illustri alla tua organizzazione i vantaggi e l'evoluzione di tecnologie come l'identità decentralizzata, una delle tecnologie " at the Peak" per Gartner.
Compila il form per scaricare il Report
Compila il form per saperne di più sulle nostre soluzioni
Gartner, Hype Cycle for Privacy, 2021, 13 July 2021, Bart Willemsen.
Gartner does not endorse any vendor, product or service depicted in its research publications, and does not advise technology users to select only those vendors with the highest ratings or other designation. Gartner research publications consist of the opinions of Gartner's research organization and should not be construed as statements of fact. Gartner disclaims all warranties, expressed or implied, with respect to this research, including any warranties of merchantability or fitness for a particular purpose.GARTNER and Hype Cycle are registered trademarks and service mark of Gartner, Inc. and/or its affiliates in the U.S. and internationally and are used herein with permission. All rights reserved.This graphic was published by Gartner, Inc. as part of a larger research document and should be evaluated in the context of the entire document. The Gartner document is available upon request from InfoCert S.P.A.