Aperte ufficialmente le iscrizioni per partecipare a This is me Hackathon_21, iniziativa creata da  DizmeID Foundation in collaborazionecon Cariplo Factory, Algorand, Fabrick, InfoCert, Legal Hackers, Sweet Legal Tech, Ben, next generation currency, blockchain4innovation, B Holding Boost Heroes, A.P.S.P. e CRAD.
This is me Hackathon_21 prende le mosse da un problema molto attuale: oggi la nostra identità digitale è costituita da un volume sempre crescenti di dati e informazioni sensibili su cui spesso non esercitiamo un effettivo controllo. Azioni semplici e quotidiane, come iscriversi a una newsletter o effettuare un pagamento online, nel panorama digitale attuale si traducono nella condivisione di dati personali sensibili, di cui spesso ignoriamo l'effettiva titolarità.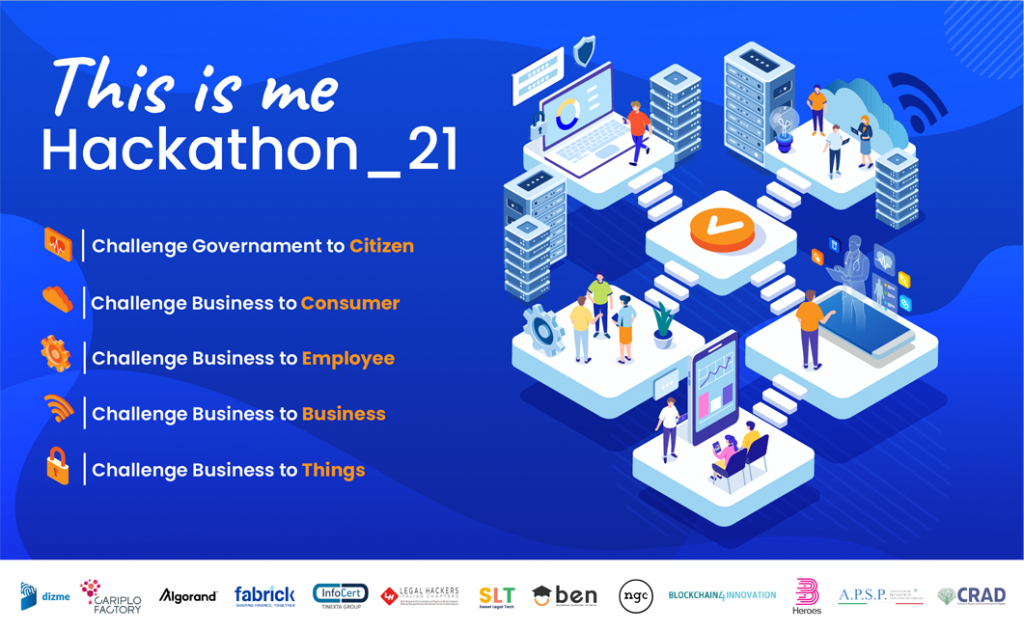 Sulla scia di queste tematiche This is me Hackathon 21 mira a migliorare la tutela dei nostri dati online, attraverso idee originali e soluzioni innovative, promuovendo lo sviluppo di un nuovo modello di identità per un reale controllo della nostra privacy e dati personali.
Come si svolge?
This is me Hackathon_21 si articola su cinque challenge, definite in funzione dei ruoli che ciascuna persona fisica può assumere relazionandosi con gli attori di uno specifico contesto digitale:
Government to Citizen: soluzioni per il Cittadino che si relaziona con la Pubblica Amministrazione.
Business to Consumer: soluzioni per il Consumatore che accede a servizi retail, finanziari, assicurativi, utility, telco.
Business to Employee: soluzioni per lo studente che si relaziona con enti di istruzione e formazione o per il lavoratore che interagisce con l'ecosistema aziendale.
Business to Business: soluzioni per il legale rappresentante che opera in nome e per conto di una persona giuridica.
Business to Thing: soluzioni per il controllo e la gestione di asset digitali e non.
A chi si rivolge This is me Hackathon_21?
Startup
Competizione dedicata ad aziende. Le startup e organizzazioni potranno proporre una Soluzione che estende un prodotto/servizio esistente oppure realizzare una Soluzione ex-novo. In entrambi i casi la Soluzione dovrà indirizzare uno dei casi d'uso proposti nelle varie Challenge.
Talenti
Competizione dedicata a software developer ed innovatori, sia singoli individui che team già organizzati. I Talenti proporranno una Soluzione originale in risposta ad uno dei casi d'uso proposti nelle varie Challenge.
LegalTech
Studi legali e singoli professionisti esperti di digital compliance potranno partecipare al contest scegliendo uno dei casi d'uso previsti dalle Challenge e sviluppando uno studio di fattibilità che indirizzi i vincoli normativi dello specifico contesto.
Per maggiori dettagli e informazioni sull'iniziativa This is me Hackathon_21 consulta la pagina ufficiale dell'iniziativa: