GoSign BUSINESS
Sign wherever you are, on the web or mobile. Create real signature workflows and involve colleagues, clients and suppliers.
Why you should upgrade to BUSINESS License
With GoSign BUSINESS, in addition to the GoSign's standard functions, you can activate the digital Signature Book and create advanced signature workflows. You can also easily manage the approval processes by sharing online the documents to be signed with whoever you want and checking the progress of the process in real time.
Enjoy the FREE trial or buy now GoSign BUSINESS License
BUSINESS License FREE Trial

Get a free trial and you'll have access to all features of the BUSINESS License for 30 days!
Start 1 month FREE
NO Credit Card required
After your 1-month free trial, there is not automatic subscription renewal. You can activate GoSign BUSINESS License for 149€ 99€ per year.
GoSign BUSINESS License gives you many benefits:
Less time for approvals
No more printing, sending and archiving paper documents
Full legal validity
Widespread presence, all digital
Create signature workflows
Track progress of the approval processes in real time
BUSINESS License
Sign wherever you are, on the web or mobile. Create real signature workflow
and involve colleagues, clients and suppliers.
With the Business license your Signature Book becomes digital!
Sign or request documents to be signed
Personalize the documents you send for signature
Manage approvals digitally
Share the signed practices via email or certified e-mail
Check in real time all the signature processes started
Moreover, your interlocutors may not have any accounts. Any signature device is enough to sign all the documents that make up the practice for legal value.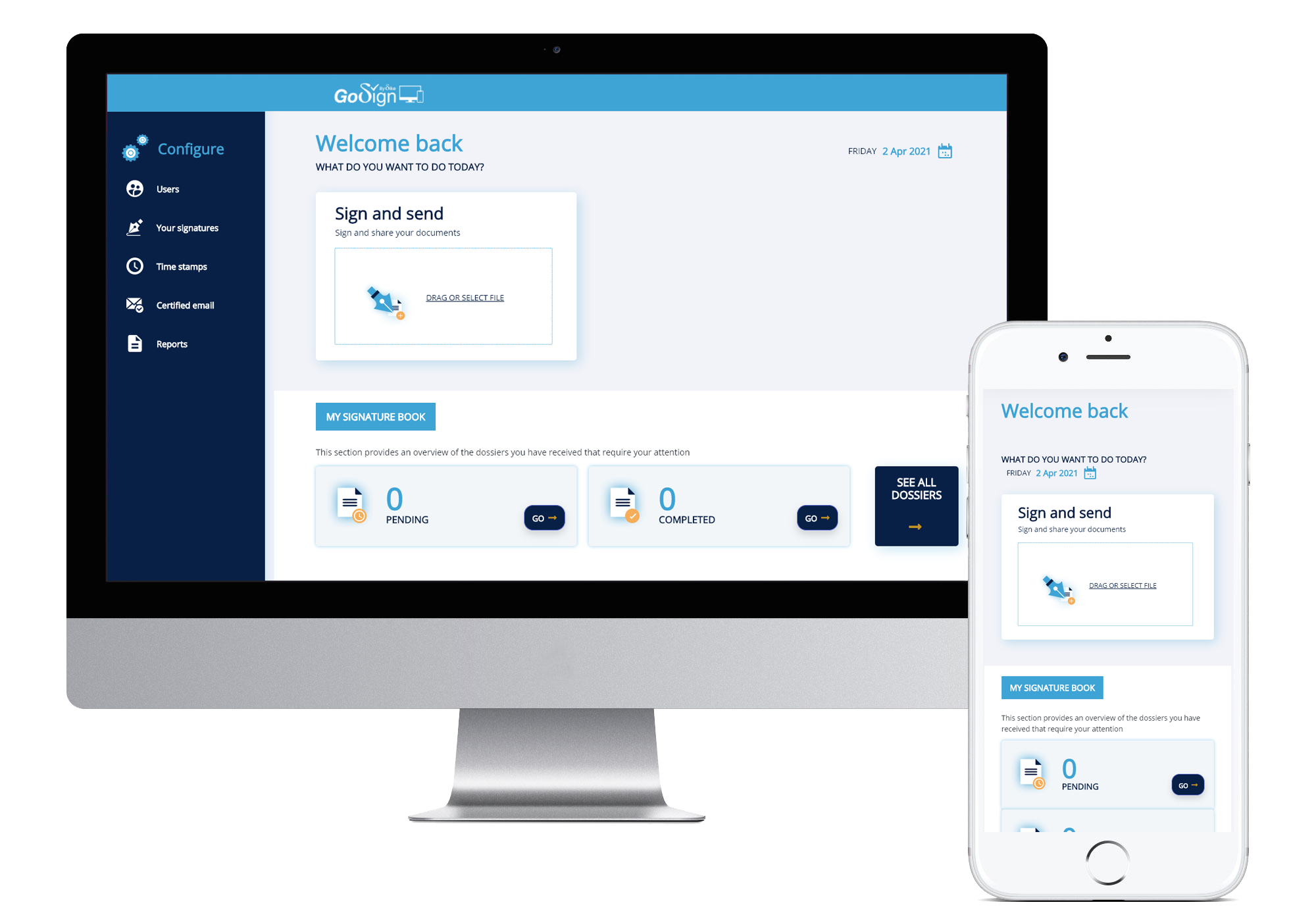 GoSign BUSINESS Mobile
The main features of GoSign BUSINESS are also available on mobile. With GoSign BUSINESS App you can sign at any time, anywhere!
Use your smartphone or tablet to:
Open and Sign all types of documents
Share your signed documents with anyone
Track the steps of signature processes in real time
Organize the approval processes
With the GoSign BUSINESS App manage signature processes is faster, smarter and easier than ever.