Electronic Signature
Sign digital documents wherever you are, with the same legal value of a handwritten signature
What is the Qualified Electronic Signature?
The Qualified Electronic Signature (QES) is a Digital Signature that is the result of an IT procedure which guarantees the authenticity, integrity and no-repudiation of electronic documents. The Qualified Electronic Signature is issued only after an online video-identification session and for this reason QES is able to prove the real identity behind any signed document.
With Qualified Electronic Signature you can sign online contracts, also on your smartphone or tablet, without additional hardware.

InfoCert QES provides the highest level of trust and security in accordance with eIDAS standards and Cloud Signature Consortium.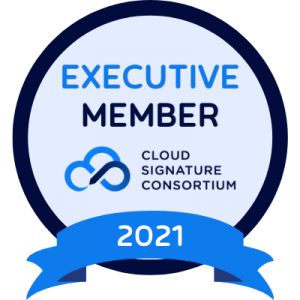 This badge certifies that InfoCert is a qualified member of the Cloud Signature Consortium for 2021.
InfoCert Qualified Electronic Signature gives you immediate benefits:
Guarantee high level of trust and security
Ensure full compliance with EU Regulation 910/2014 (eIDAS)
Streamline approval processes
Rely on us, InfoCert is the leading European Digital Trust Service Provider!
+ 10.700.000
Qualified Digital Signature issued
+ 800.000
Users use the InfoCert digital signature every day
+ 511.000.000
Signed documents every year
Get your Qualified Electronic Signature in a few minutes
1. Buy InfoCert Qualified Electronic Signature
2. Enter the information required
3. Prove your identity on a video call with our remote operator
Please note: during the online video identification session (available from Monday to Friday, 9:00-18:00 CET) you need to have a passport or, only for Italian and German citizens, an ID Card.
4. Get all details by email