Access the LEI Repository to easely filter and search LEI Records
LEGAL ENTITY IDENTIFIER (LEI)
The Legal Entity Identifier (LEI) is a 20-character, alpha-numeric code based on the ISO 17442 standard developed by the International Organization for Standardization (ISO).

It connects to key reference information that enables clear and unique identification of legal entities participating in financial transactions.
Each LEI contains information about an entity's ownership structure and thus answers the questions of 'who is who' and 'who owns whom'.
Simply put, the publicly available LEI data pool can be regarded as a global directory, which greatly enhances transparency in the global marketplace.
Becoming a member of the Global LEI System via GLEIF accreditation is a globally recognized designation of commitment to data quality and customer service.
LOCAL OPERATING UNIT (LOU)
An organization authorized to issue LEIs to legal entities participating in financial transactions is referred to as a Local Operating Unit (LOU).
LOUs supply registration, renewal and other services, and act as the primary interface with legal entities for LEIs.
A LOU may issue LEIs to legal entities in any jurisdiction for which it is accredited.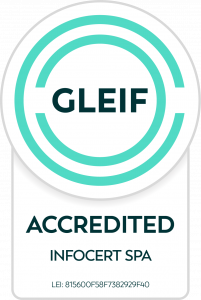 Legal Entities
To request/transfer an LEI with InfoCert or update their data, LEgal Entities can refer to our banking partners.
Banks
Become an InfoCert intermediary to issue LEIs to your customer.
Manage Challenges
If you notice some mistakes, you can manage challenges sending a signed form via e-mail to infocertlou@infocert.it.
Make reference to the mail adress infocertlou@infocert.it to request information, and update Reference Data for every LEI or LE-RD.
Digital Future Magazine
Find out the latest news on Digital Trust Services in our International Magazine.