Our solutions
Meeting Management
Overview
Manage your meetings in a simpler, more effective and safer way
Meeting management, and board meeting management in particular, can be very demanding and stressful for administrative assistants at any company.
Traditional meeting management requires the production of a large number of printed documents which causes a number of problems:
distributing large numbers of printed copies of documents, which are often revised or updated at the last minute, increases the risk of providing outdated information to some participants;
confidential documents left in the wrong place canreveal important information to unauthorized persons and cause a data breach;
many documents are delivered to executive assistants to be printed, distributed, bound and checked, with the risk of mistakes being made.
A simpler, safer and more effective way to manage meetings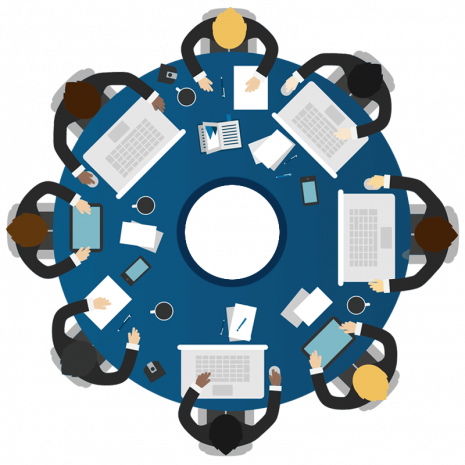 Meeting Book guarantees the highest level of security and content distribution governance for your confidential meetings.
With Meeting Book, all necessary materials are prepared in a digital format and can be read by every participant on a tablet.
Documents are displayed as a book containing several files. Each individual document can be distributed to all participants or to a limited group, depending on the nature of the document and the role of each participant.
Meeting Book was designed to be the perfect tool to manage document sharing among board members and top managers. It guarantees confidentiality of sensitive contents and the proper visibility rights for each participant.
Upload documents and set distribution rules and access permissions to confidential content.
Invite and share content with meeting participants who receive a notification on their tablet.
Meeting Book lets participants manage the meeting digitally as a speaker, reader, follower or moderator.
Decide which participants will be permitted to save shared content safely.
Use Cases
One solution, several possible applications
Board Meeting

Secretarial activities are simplified with the possibility of digitally composing contents and replacing it at different times. Participants can prepare for the meeting by consulting previewed content, even off line.

Training

Course documentation can be defined digitally and structured. Course participants can access the content before class and use it to prepare, making electronic annotations. The contents can remain accessible even after the training sessions have ended.

Sharing of Company Information

Company regulations, quality procedures, technical presentations and any kind of structured information can be distributed and made available for consultation according to specific access rules.

Sales

Marketing documentation can be set up and continuously updated. Sales forces can be provided presentations, flyers, offers and commercial information that are always up to date and available on their tablets at all times.
Benefits
Here are just a few of the benefits of applying InfoCert Meeting Book in your company
EFFICIENCY AND EFFECTIVENESS
Smart content organization with efficient and effective meeting management
SECURITY AND VERSATILITY
Guaranteed access security, available in the cloud or on premise
VOTING AND APPROVALS
Voting and approvals management through GoSign integration
CONTENTS SHARING
Easy off-line consultation and content sharing with meeting participants
Business cases
Learn more about the huge potential impact of InfoCert's solutions
Industries
Our digital trust solutions meet the needs of companies in every market
Customer Success Stories
See how our solutions have helped our customers successfully digitize their business processes
News & Events
Latest InfoCert News
Digital Future Magazine
Find out the latest news on Digital Trust Services in our International Magazine.