GoSign
Entdecken Sie das volle Potenzial der digitalen Signaturen und Zeitstempel mit nur einem Instrument
GoSign Suite ist die Lösung für die Verwaltung all Ihrer Signaturprozesse.
Entdecken Sie unser integriertes Omnichannel-Benutzererlebnis und starten Sie noch heute Ihre digitale Reise!
Unterzeichnen, Signaturen prüfen, mit einem Zeitstempel kennzeichnen und Dokumente mit beliebigen Personen teilen – auf Ihrem PC, Smartphone oder direkt online. Wechseln Sie mit GoSign ganz einfach von einer nur teilweise digitalisierten Dokumentsignierung zu einem rundum zuverlässigen digitalen End-to-End-Ansatz. Diese Lösung ist mit jeder Art von digitaler Signatur kompatibel und für jedes Betriebssystem und Gerät verfügbar.
Erstellen, teilen und GoSign!
Nutzen Sie das volle Potenzial der digitalen Signaturen mit nur einem Instrument.
Wählen Sie die passende Lösung.
Sie möchten einfacher und schneller unterschreiben?
GoSign Desktop: signieren, prüfen und datieren Sie all Ihre digitalen Dokumente KOSTENLOS.
Die Hauptfunktionen von GoSign Desktop sind auch auf Ihrem Mobiltelefon verfügbar
Web App
Activate now your GoSign BUSINESS account and start signing and sharing documents directly online.
Sign all types of documents
Create signature workflows
Customize the message to be shown in the email
Place the timestamp on your documents, also the unsigned ones
Send documents out for other people's signatures
Engage users with all the advanced tools
Check all signed files in "My Signature Book"
GoSign BUSINESS is also available on mobile.
Login to your GoSign BUSINESS' account
Sie müssen mehrere Dateien gleichzeitig signieren?
GoSign Key Controller
GoSign Key Controller (GKC) ist die ultimative Lösung von InfoCert für die lokale Nutzung und Verwaltung von Cloud-Zertifikaten auf Ihrer Windows-Desktop-Anwendung.

GoSign Key Controller
GoSign Key Controller (GKC) is the InfoCert ultimate solution to use and manage cloud certificate locally on your windows desktop app.
With InfoCert GKC users can store remote qualified certificate in a centralized way and use them to authenticate on the web and sign documents with the signature applications which interact with the local certificate store.
Everything can be done with full legal value under the eIDAS regulation, guaranteed by InfoCert, the largest Qualified Trust Service Provider in Europe.
All qualified certificates stored within GKC can be used:
within GoSign Desktop, to electronically sign any kind of document;
within any website, using supported browsers, to authenticate ;
with any other software applications which allow users authenticate or sign with certificate stored in Windows.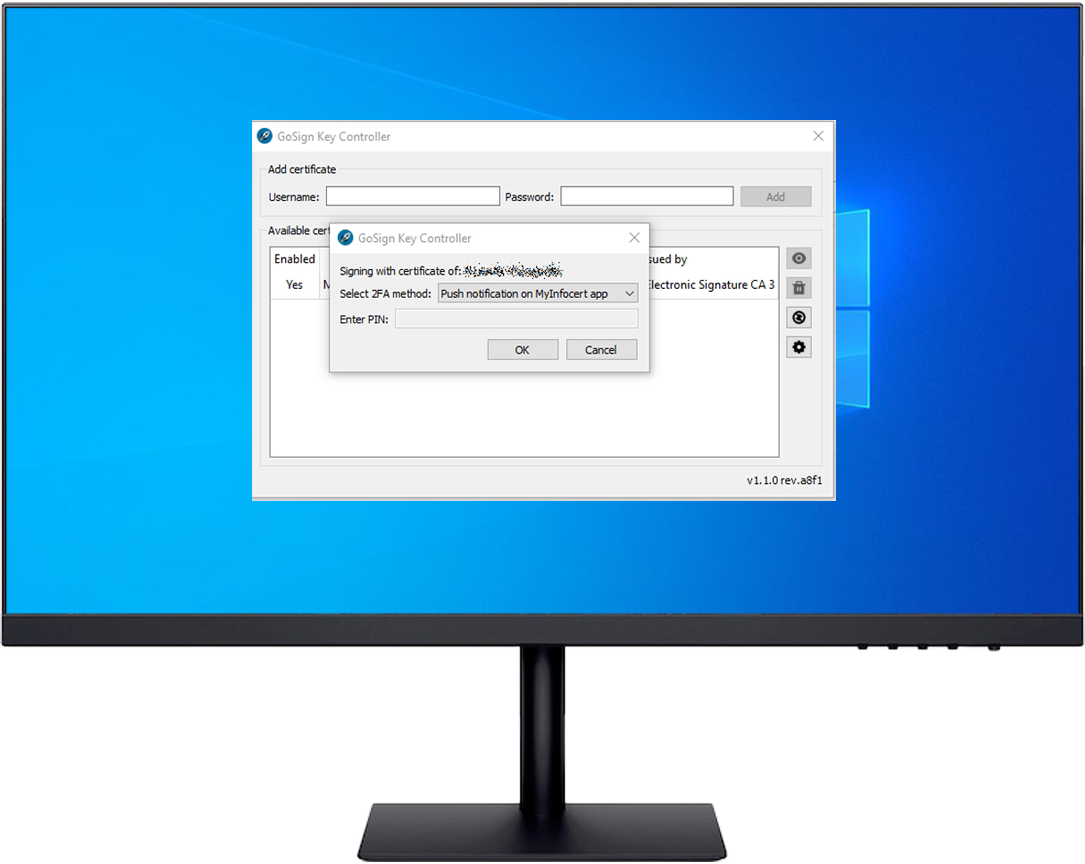 Qualified Certificates to store in GoSign Key Controller
Within our application is possible to store any kind of qualified certificate issued by InfoCert or one of our authorized partners.
Usually our certificates are characterized by:
User & Password to access the certificate saved in our cloud

PIN and OTP to confirm the digital signature
Once users store their certificates in our GKC locally, for any transaction they just need to enter the PIN and the OTP.
Moreover, certificates can be managed within the web portal mysign.infocert.it.
Features overview
Within each GKC, you can not only configure one or more certificates for authentication and/or signature, but you can also take advantage of other features:
Manage visibility

Hide/show certificates in the store "My" with just one click

Multi-account

Load one or more certificate with different scope (KeyUsage) and/or different security level (PIN or PIN+OTP), and use them where you want
Technical Features
GKC is Key Storage Provider provider for Microsoft Window CNG.
A KSP stores private keys used for signing securely by physical means –a Hardware Security Module (HSM) on InfoCert premises.
InfoCert's GKC KSP function as a typical "software KSP" in that they expose a local interface of cryptographic functions, while accessing keys in a totally different way.
GKC allows the use of signing/authentication keys resident on a remote HSM transparently, connecting securely across the web and managing the eventual second-factor authentication challenge.
System requirements
Distribution details
Weshalb GoSign?
Zeit- und ortsunabhängige Signatur
Bejahung eines papierlosen Ansatzes
Einfaches und intuitives Erlebnis
GoSign verbessert den Return On Investment (ROI) um bis zu 177 %
Hinzufügen weiterer Benutzer
Zuordnen und Trennen von Stempeln im .TSD- oder .M7M-Format
Freigabe signierter Dokumente mittels E-Mail
Freigabe signierter Dokumente mittels zertifizierter E-Mail
Konfiguration des zertifizierten E-Mail-Kontos
Gegensignatur einer oder mehrerer Dateien
Erstellen von Signaturprozessen
Erstellen von Signaturbildern und Initialen
Signatur im .p7m- und .pdf-Format in einer selben Datei
Unterzeichnen und Stempeln mehrerer Dateien und Ordner mit nur einem Klick
Unterzeichnen und Stempeln in einer selben Datei
Unterzeichnen und Stempeln im SIAdES- oder PAdES-LTV-Format – auch in mehreren Dateien/Ordnern
Verwalten der zur Signatur übermittelten Unterlagen
Adressbuchverwaltung von Signaturprozessen
Stempeln im .TSD-Format in einer selben Datei
Stempeln im .TSD-, .TSR- und .M7M-Format – auch in mehreren Dateien
Echtzeit-Überwachung des Prozesses
Empfang von zu signierenden Dokumenten über mobile App
Speichern der Anmeldeinformationen von Fernsignaturen
GoSign unterstützt alle elektronischen Signaturen laut eIDAS-Verordnung
Sie benötigen ein QES-Signaturzertifikat?