The first unattended identification to get a qualified digital signature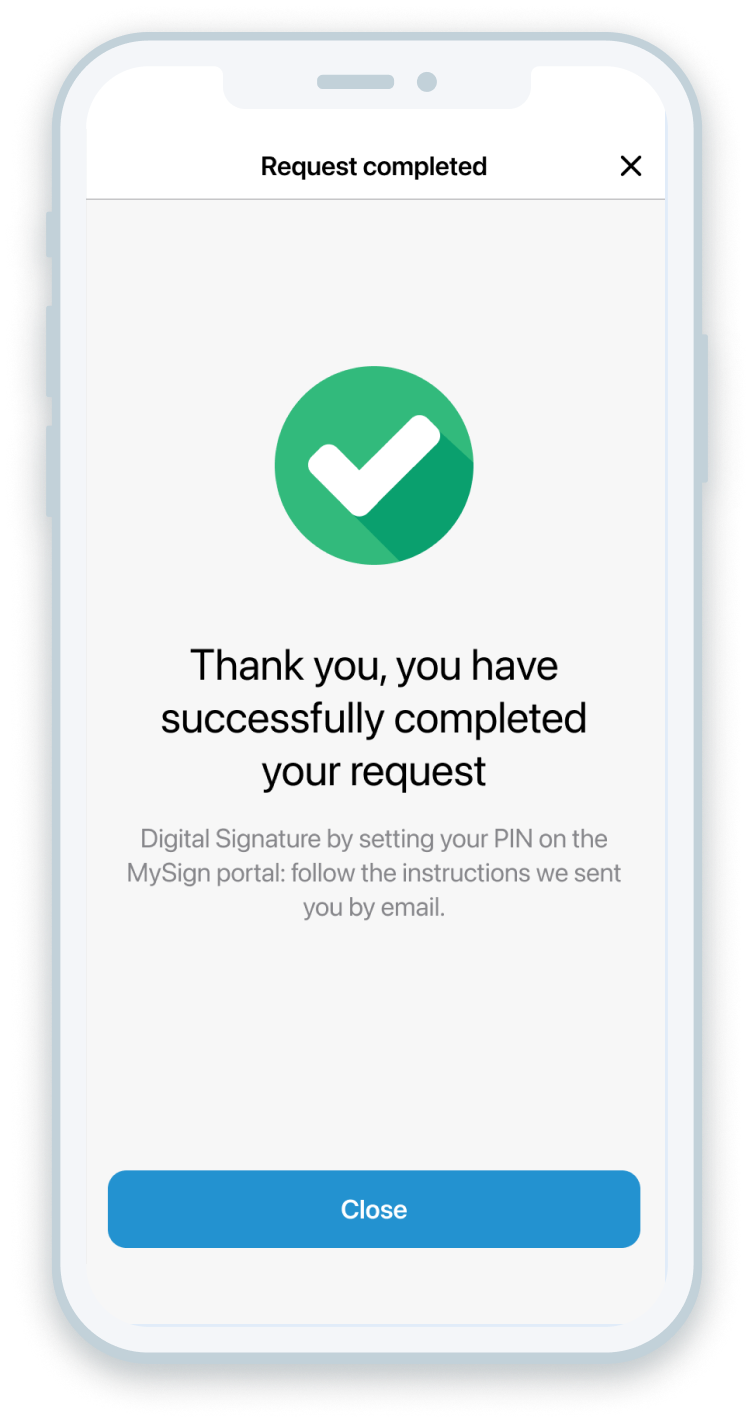 The new frontier of identification for your digital signature
eID identification allows the user to proceed completely autonomously to recognise his or her digital identity, thus obtaining a qualified signature certificate in a matter of minutes.
Just 4 steps to get a Qualified Electronic Signature
eID identification allows your stakeholders to obtain a qualified digital signature certificate in a matter of minutes, reducing waiting times and meeting organisations' needs for simplification
A ready to use app allows you to start the process anywhere at anytime
NFC technology enables the reading of the electronic document used (e-passport or CIE for italian context)
The identity of the user is confirmed thanks to liveness detection and face matching technology
The qualified electronic signature is ready to be used
Easy for your stakeholders, safe for your organisation
Our technologies make it possible to automatically extract and analyse data and photos of identity documents
Data extraction

OCR (Optical Character Recognition) is used to identify and extract data from identity documents. The module can also work off-line on mobile devices using an SDK integrated in a mobile application. 

eID NFC reading

NFC technology can access any eMRTD (electronic Machine Readable Travel Document) to obtain the personal data and photo of the owner. 

Liveness detection and Face Matching

The Liveness Detection component ensures that there is a real person in front of the camera, while the Face Matching technology automatically checks that the person providing the identity document is the same person to whom the document belongs. 
Find out how eID identification can meet the needs of your organization
Guarantee the legal value of your digital transactions, enabling your employees, collaborators and stakeholders to obtain a qualified digital signature within few minutes.
Employment applications, offer letters, confidentiality agreements: digitize your employee life cycle, from hiring to retiring.
Close deals and sales in a short time, offering a quick and easy tool for signing contracts with the maximum legal value.
Optimize vendor contracting
Speed up business processes by digitally signing documents such as tender requests, quotations, orders and purchase confirmations.
All the advantages of a remote and unmanned process
Cost reduction

Zero costs on operators, especially multilingual ones

Easy integration

Easy adoption thanks to a ready-to-use application

Time saved

Qualified Electronic Signature obtainable in minutes and autonomously

Better user experience

Simplify signature processes for your stakeholders with a fast and intuitive process
Trusted by over 5000 companies
Global brands already working with InfoCert
InfoCert participates in numerous projects dedicated to environmental sustainability and inclusion.
Complete the form and send us your request, and we will contact you as soon as possible!