GoSign
Ismerje meg az egyetlen eszközzel elvégezhető digitális aláírásban és időbélyegzésben rejlő lehetőségeket.
A GoSign Suite lehetővé teszi az összes aláírási folyamat kezelését.
Ismerje meg az integrált omni-csatornás felhasználói élményt, és kezdje el digitális utazását most!
A dokumentumokat aláírhatja, ellenőrizheti az aláírásokat és a dokumentumokat időbélyeggel láthatja el számítógépén vagy okostelefonján, illetve közvetlenül online, és megoszthatja azokat bárkivel. A GoSign használatával a részben digitális dokumentum-aláírási folyamatról egy teljesen megbízható, végponttól végpontig terjedő digitális folyamatra válthat. A GoSign minden típusú digitális aláírással kompatibilis, és minden operációs rendszerhez és eszközhöz elérhető
Létrehozás, megosztás és GoSign!
Egyetlen eszközzel kiaknázhatja a digitális aláírásban rejlő összes lehetőséget.
Válassza ki az igényeinek leginkább megfelelő megoldást.
Szeretne könnyebben és gyorsabban aláírni?
A GoSign Desktop segítségével INGYENESEN aláírhatja, ellenőrizheti és időbélyeggel láthatja el digitális dokumentumait.
A GoSign Desktop fő funkciói mobilon is elérhetők
Web App
Activate now your GoSign BUSINESS account and start signing and sharing documents directly online.
Sign all types of documents
Create signature workflows
Customize the message to be shown in the email
Place the timestamp on your documents, also the unsigned ones
Send documents out for other people's signatures
Engage users with all the advanced tools
Check all signed files in "My Signature Book"
GoSign BUSINESS is also available on mobile.
Login to your GoSign BUSINESS' account
Több fájlt kell egyszerre aláírnia?
GoSign Key Controller
A GoSign Key Controller (GKC) az InfoCert átfogó megoldása a felhőtanúsítványok helyi használatára és kezelésére a Windows asztali alkalmazásban

GoSign Key Controller
GoSign Key Controller (GKC) is the InfoCert ultimate solution to use and manage cloud certificate locally on your windows desktop app.
With InfoCert GKC users can store remote qualified certificate in a centralized way and use them to authenticate on the web and sign documents with the signature applications which interact with the local certificate store.
Everything can be done with full legal value under the eIDAS regulation, guaranteed by InfoCert, the largest Qualified Trust Service Provider in Europe.
All qualified certificates stored within GKC can be used:
within GoSign Desktop, to electronically sign any kind of document;
within any website, using supported browsers, to authenticate ;
with any other software applications which allow users authenticate or sign with certificate stored in Windows.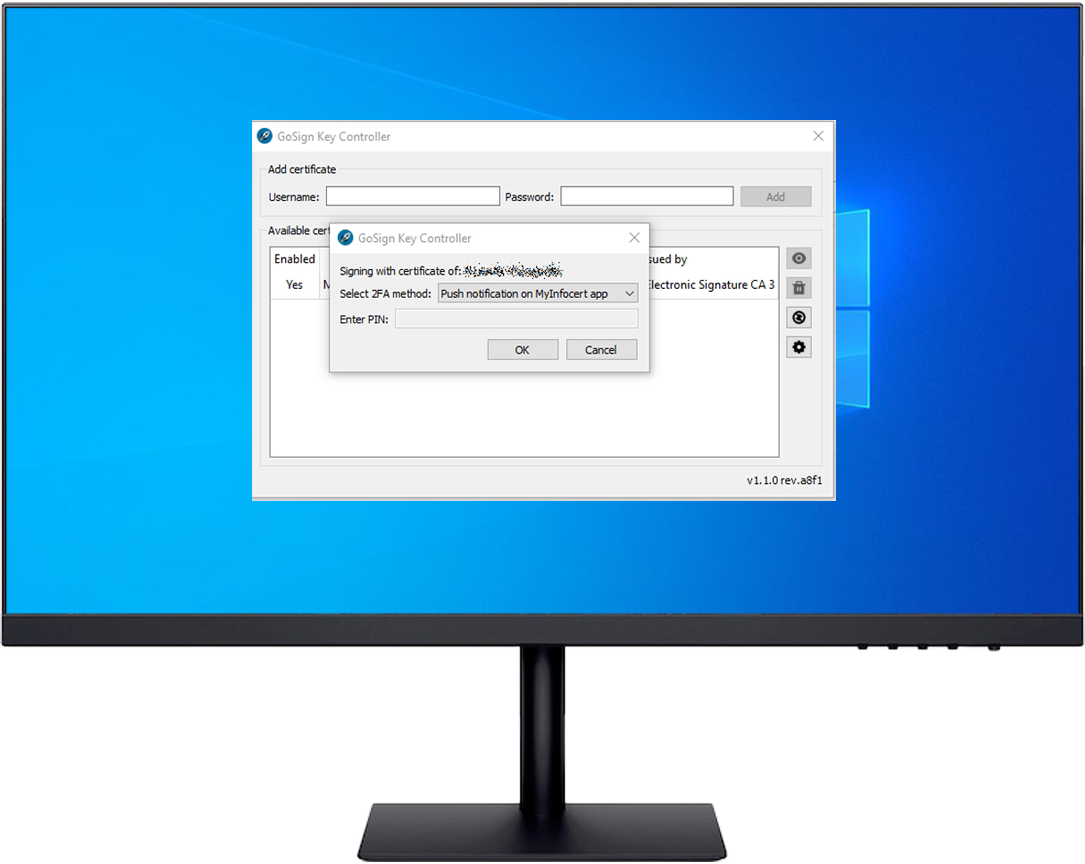 Qualified Certificates to store in GoSign Key Controller
Within our application is possible to store any kind of qualified certificate issued by InfoCert or one of our authorized partners.
Usually our certificates are characterized by:
User & Password to access the certificate saved in our cloud

PIN and OTP to confirm the digital signature
Once users store their certificates in our GKC locally, for any transaction they just need to enter the PIN and the OTP.
Moreover, certificates can be managed within the web portal mysign.infocert.it.
Features overview
Within each GKC, you can not only configure one or more certificates for authentication and/or signature, but you can also take advantage of other features:
Manage visibility

Hide/show certificates in the store "My" with just one click

Multi-account

Load one or more certificate with different scope (KeyUsage) and/or different security level (PIN or PIN+OTP), and use them where you want
Technical Features
GKC is Key Storage Provider provider for Microsoft Window CNG.
A KSP stores private keys used for signing securely by physical means –a Hardware Security Module (HSM) on InfoCert premises.
InfoCert's GKC KSP function as a typical "software KSP" in that they expose a local interface of cryptographic functions, while accessing keys in a totally different way.
GKC allows the use of signing/authentication keys resident on a remote HSM transparently, connecting securely across the web and managing the eventual second-factor authentication challenge.
System requirements
Distribution details
Miért válassza a GoSign alkalmazást?
Egyszerű, intuitív felhasználói élmény
A GoSign használata akár 177%-kal is növelheti a befektetés megtérülését (ROI)
További felhasználók hozzáadása
Időbélyegek "Társítása és elválasztása" .TSD vagy .M7M formátumok esetén
Aláírt dokumentumok megosztása e-mailben
Aláírt dokumentumok megosztása hitelesített e-mailben
Hitelesített e-mail fiókok konfigurálása
Egy vagy több fájl ellenjegyzése
Aláírási folyamatok létrehozása
Aláírás- és monogramképek létrehozása
.p7m és .pdf aláírása egyetlen fájlon
Több fájl és mappa aláírása és időbélyegzése egyetlen kattintással
Aláírás és időbélyegzés egyetlen fájlon
SIAdES vagy PAdES-LTV aláírás és időbélyegzés egy vagy több fájlon/mappán
Aláírásra küldött dokumentumok kezelése
Aláírási folyamatok címzettlistáinak kezelése
.TSD időbélyeg egyetlen fájlon
.TSD, .TSR és .M7M időbélyeg egy vagy több fájlon
Aláírási folyamatok nyomon követése valós időben
Dokumentumok fogadása aláírásra a mobilalkalmazásban
Távoli aláírás hitelesítő adatainak mentése
A GoSign támogatja az eIDAS-rendeletben meghatározott összes elektronikus aláírást
Minősített elektronikus aláíró tanúsítványra van szüksége?