GoSign
Odkryj pełny potencjał swojego podpisu elektronicznego i znacznika czasu w jednym narzędziu
Aplikacja GoSign Suite pozwala zarządzać wszystkimi procesami podpisywania.
Odkryj nasze wielokanałowe zintegrowane rozwiązania i już teraz wyrusz w swoją elektroniczną podróż!
Możesz podpisywać dokumenty, weryfikować podpisy i umieszczać znaczniki czasu, korzystając z aplikacji na komputer lub smartfon, lub bezpośrednio z przeglądarki, a także udostępniać dokumenty wybranym osobom. Z GoSign możesz przejść z częściowo elektronicznego procesu podpisywania dokumentów do całkowicie niezawodnego, kompleksowego procesu elektronicznego. GoSign jest zgodny ze wszystkimi rodzajami podpisów elektronicznych i jest dostępny dla wszystkich systemów operacyjnych i urządzeń.
Twórz, udostępniaj i GoSign!
Wykorzystaj pełny potencjał swojego podpisu elektronicznego w jednym narzędziu.
Wybierz najlepsze dla siebie rozwiązanie.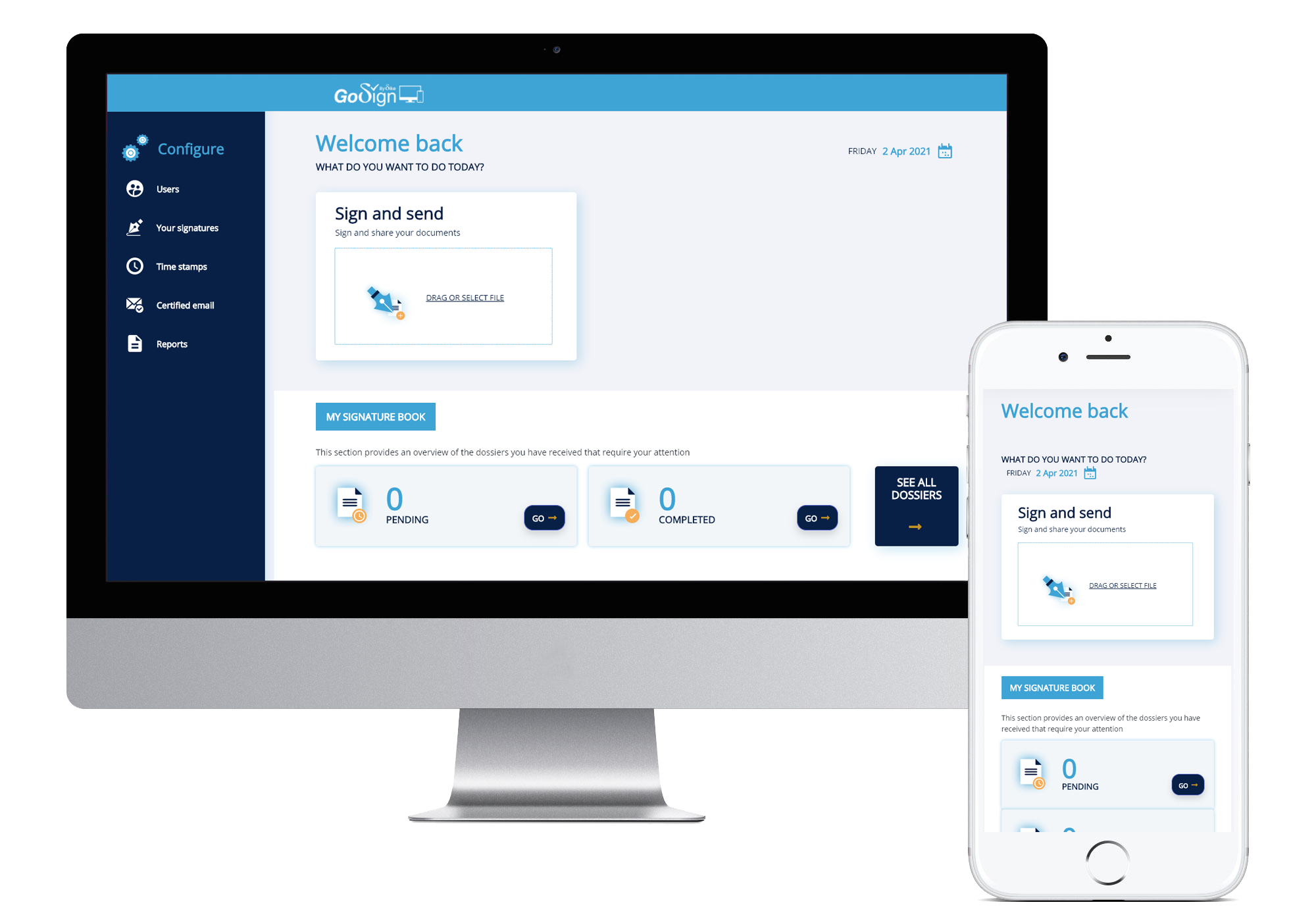 Chcesz podpisywać dokumenty łatwiej i szybciej?
Z GoSign Desktop możesz BEZPŁATNIE podpisywać, weryfikować i oznaczać czasem wszystkie swoje dokumenty elektroniczne.
Główne funkcje GoSign Desktop są również dostępne na urządzeniach mobilnych.
Web App
Activate now your GoSign BUSINESS account and start signing and sharing documents directly online.
Sign all types of documents
Create signature workflows
Customize the message to be shown in the email
Place the timestamp on your documents, also the unsigned ones
Send documents out for other people's signatures
Engage users with all the advanced tools
Check all signed files in "My Signature Book"
GoSign BUSINESS is also available on mobile.
Login to your GoSign BUSINESS' account
Chcesz podpisywać wiele plików jednocześnie?
GoSign Key Controller
GoSign Key Controller (GKC) to najlepsze rozwiązanie InfoCert do używania certyfikatów w chmurze i zarządzania nimi lokalnie w aplikacji komputerowej na Windows

GoSign Key Controller
GoSign Key Controller (GKC) is the InfoCert ultimate solution to use and manage cloud certificate locally on your windows desktop app.
With InfoCert GKC users can store remote qualified certificate in a centralized way and use them to authenticate on the web and sign documents with the signature applications which interact with the local certificate store.
Everything can be done with full legal value under the eIDAS regulation, guaranteed by InfoCert, the largest Qualified Trust Service Provider in Europe.
All qualified certificates stored within GKC can be used:
within GoSign Desktop, to electronically sign any kind of document;
within any website, using supported browsers, to authenticate ;
with any other software applications which allow users authenticate or sign with certificate stored in Windows.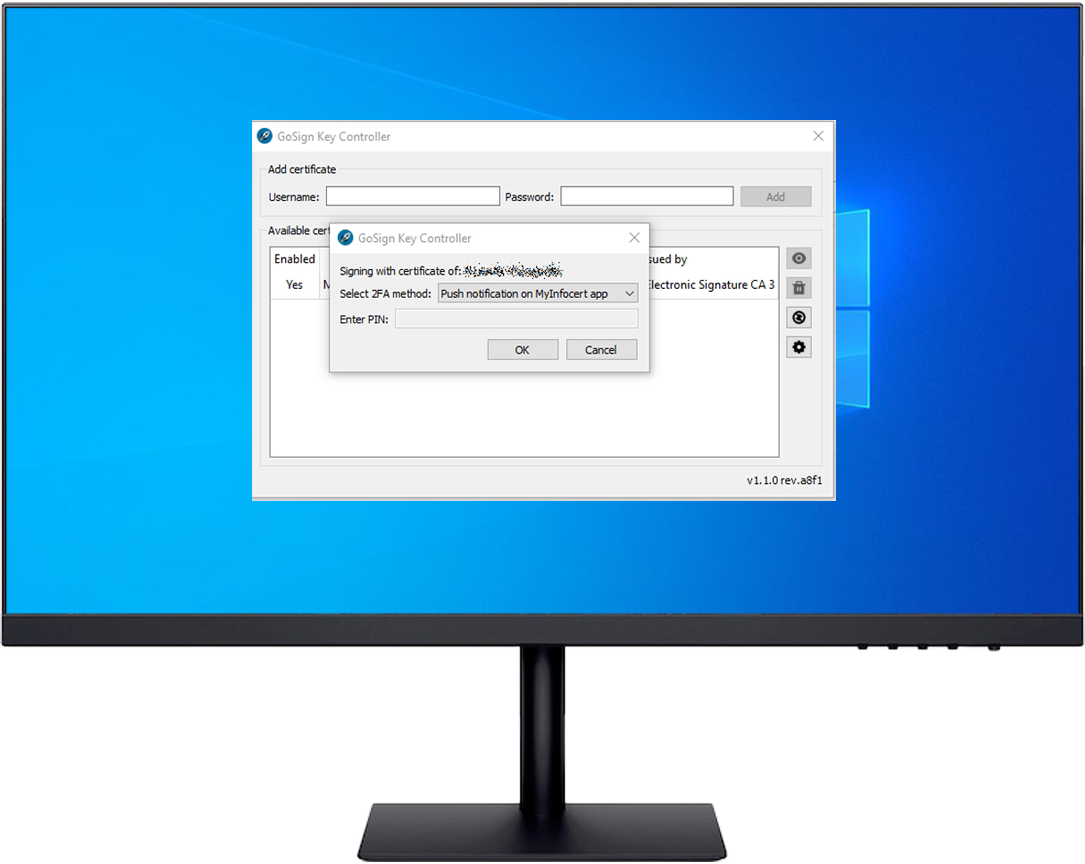 Qualified Certificates to store in GoSign Key Controller
Within our application is possible to store any kind of qualified certificate issued by InfoCert or one of our authorized partners.
Usually our certificates are characterized by:
User & Password to access the certificate saved in our cloud

PIN and OTP to confirm the digital signature
Once users store their certificates in our GKC locally, for any transaction they just need to enter the PIN and the OTP.
Moreover, certificates can be managed within the web portal mysign.infocert.it.
Features overview
Within each GKC, you can not only configure one or more certificates for authentication and/or signature, but you can also take advantage of other features:
Manage visibility

Hide/show certificates in the store "My" with just one click

Multi-account

Load one or more certificate with different scope (KeyUsage) and/or different security level (PIN or PIN+OTP), and use them where you want
Technical Features
GKC is Key Storage Provider provider for Microsoft Window CNG.
A KSP stores private keys used for signing securely by physical means –a Hardware Security Module (HSM) on InfoCert premises.
InfoCert's GKC KSP function as a typical "software KSP" in that they expose a local interface of cryptographic functions, while accessing keys in a totally different way.
GKC allows the use of signing/authentication keys resident on a remote HSM transparently, connecting securely across the web and managing the eventual second-factor authentication challenge.
System requirements
Distribution details
Dlaczego warto wybrać GoSign?
Umożliwia podpisywanie w dowolnym miejscu i czasie
Pozwala zrezygnować z papieru
Ma łatwy i intuicyjny interfejs użytkownika
Używanie GoSign zwiększa zwrot z inwestycji (ROI) nawet o 177%
Dodawaj innych użytkowników
Łącz i dziel znaczniki czasu w formacie .TSD lub .M7M
Udostępniaj podpisane dokumenty przez e-mail
Udostępniaj podpisane dokumenty przez certyfikowany e-mail
Konfiguruj certyfikowane konta e-mail
Kontrasygnuj jeden lub więcej plików
Twórz procesy podpisywania
Twórz obrazy podpisów i inicjałów
Podpisuj .p7m oraz .pdf w jednym pliku
Podpisuj i oznaczaj czasem wiele plików i folderów jednym kliknięciem
Umieszczaj podpisy i znaczniki czasu w jednym pliku
Umieszczaj podpisy i znaczniki czasu SIAdES lub PAdES-LTV w jednym lub kilku plikach/folderach
Zarządzaj dokumentami wysłanymi do podpisu
Zarządzaj listami odbiorców w procesie podpisywania
Umieszczaj znaczniki czasu .TSD w jednym pliku
Umieszczaj znaczniki czasu .TSD,.TSR i .M7M w jednym lub kilku plikach
Monitoruj procesy podpisywania w czasie rzeczywistym
Odbieraj dokumenty do podpisu w aplikacji mobilnej
Zapisuj dane do zdalnego podpisu
GoSign obsługuje wszystkie podpisy elektroniczne zdefiniowane w rozporządzeniu eIDAS
Potrzebujesz certyfikatu kwalifikowanego podpisu elektronicznego?