GoSign
Descoperă întregul potențial al semnăturii tale electronice și al marcajului temporal cu un singur instrument
GoSign Suite îți permite să îți gestionezi toate procesele de semnătură
Descoperă experiența noastră integrată de utilizator omnicanal și începe călătoria ta digitală chiar acum!
Poți semna, verifica semnăturile și documentele marcate temporal pe computer sau smartphone sau direct online și poți partaja documente cu oricine dorești. Cu GoSign, poți trece de la un proces de semnătură a documentelor parțial electronică la un proces electronic end-to-end de încredere deplină. GoSign este compatibil cu toate tipurile de semnătură electronică și este disponibil pentru toate sistemele de operare și dispozitivele
Crează, partajează și GoSign!
Deblochează întregul potențial al semnăturii tale electronice cu un singur instrument.
Alege soluția cea mai potrivită nevoilor tale
Dorești să semnezi mai ușor și mai rapid?
Cu GoSign Desktop poți semna, verifica și marca temporal toate documentele tale electronice în mod GRATUIT
Funcțiile principale ale GoSign Desktop sunt disponibile și în versiunea mobile.
Web App
Activate now your GoSign BUSINESS account and start signing and sharing documents directly online.
Sign all types of documents
Create signature workflows
Customize the message to be shown in the email
Place the timestamp on your documents, also the unsigned ones
Send documents out for other people's signatures
Engage users with all the advanced tools
Check all signed files in "My Signature Book"
GoSign BUSINESS is also available on mobile.
Login to your GoSign BUSINESS' account
Trebuie să semnezi mai multe fișiere în același timp?
GoSign Key Controller
GoSign Key Controller (GKC) este soluția definitivă a InfoCert pentru utilizarea și gestionarea certificatelor cloud la nivel local în aplicația desktop windows.

GoSign Key Controller
GoSign Key Controller (GKC) is the InfoCert ultimate solution to use and manage cloud certificate locally on your windows desktop app.
With InfoCert GKC users can store remote qualified certificate in a centralized way and use them to authenticate on the web and sign documents with the signature applications which interact with the local certificate store.
Everything can be done with full legal value under the eIDAS regulation, guaranteed by InfoCert, the largest Qualified Trust Service Provider in Europe.
All qualified certificates stored within GKC can be used:
within GoSign Desktop, to electronically sign any kind of document;
within any website, using supported browsers, to authenticate ;
with any other software applications which allow users authenticate or sign with certificate stored in Windows.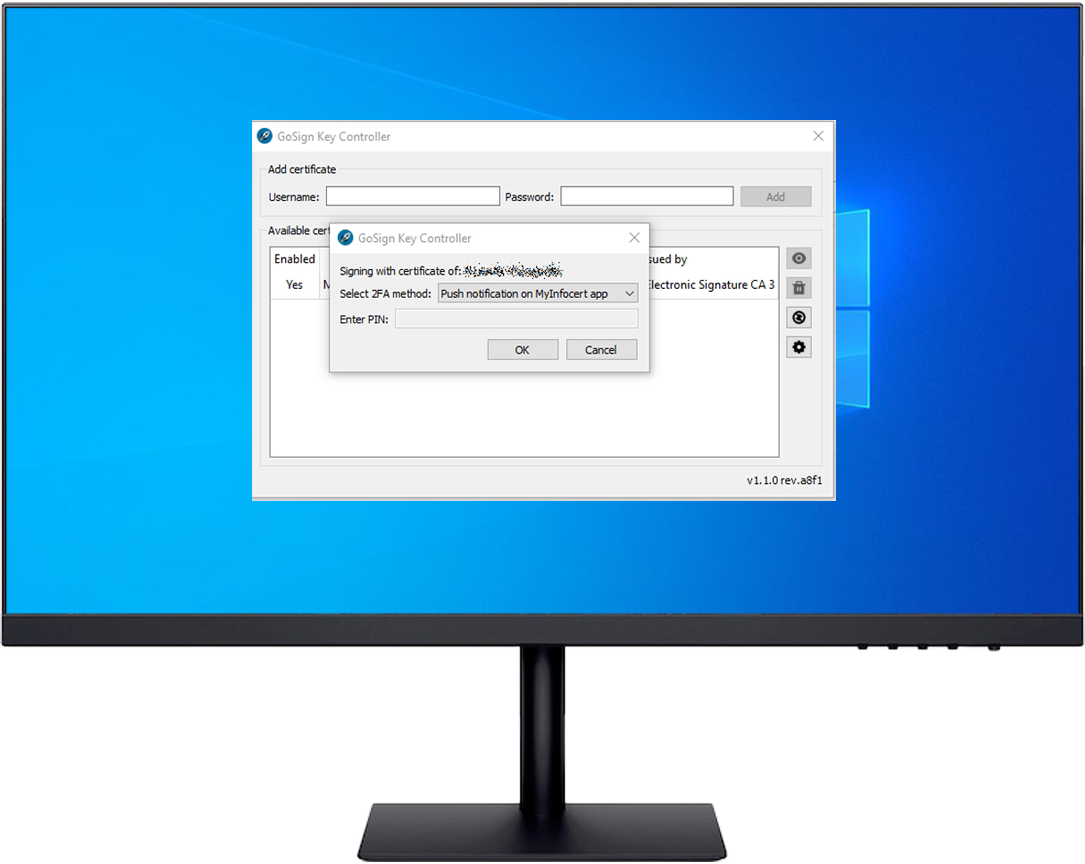 Qualified Certificates to store in GoSign Key Controller
Within our application is possible to store any kind of qualified certificate issued by InfoCert or one of our authorized partners.
Usually our certificates are characterized by:
User & Password to access the certificate saved in our cloud

PIN and OTP to confirm the digital signature
Once users store their certificates in our GKC locally, for any transaction they just need to enter the PIN and the OTP.
Moreover, certificates can be managed within the web portal mysign.infocert.it.
Features overview
Within each GKC, you can not only configure one or more certificates for authentication and/or signature, but you can also take advantage of other features:
Manage visibility

Hide/show certificates in the store "My" with just one click

Multi-account

Load one or more certificate with different scope (KeyUsage) and/or different security level (PIN or PIN+OTP), and use them where you want
Technical Features
GKC is Key Storage Provider provider for Microsoft Window CNG.
A KSP stores private keys used for signing securely by physical means –a Hardware Security Module (HSM) on InfoCert premises.
InfoCert's GKC KSP function as a typical "software KSP" in that they expose a local interface of cryptographic functions, while accessing keys in a totally different way.
GKC allows the use of signing/authentication keys resident on a remote HSM transparently, connecting securely across the web and managing the eventual second-factor authentication challenge.
System requirements
Distribution details
De ce să alegi GoSign?
Semnează oricând, oriunde te-ai afla
Îți îmbunătățește eficiența
Elimină consumul de hârtie
Te bucuride o experiență de utilizator simplă și intuitivă
Utilizarea GoSign îți crește rentabilitatea investiției (ROI) cu până la 177%
Asociază și Separă marcaje temporale în format .TSD sau .M7M
Partajează documente semnate pe e-mail
Partajează documente semnate prin poștă electronică securizată
Configurează conturi de poștă electronică securizată
Contrasemnează unul sau mai multe fișiere
Crează procese de semnătură
Crează imagini cu semnătură și inițiale
Semnează .p7m și .pdf într-un singur fișier
Semnează și marchează temporal mai multe fișiere și foldere cu un singur clic
Semnează și marchează temporal un singur fișier
Semnează și marchează temporal SIAdES sau PAdES-LTV pe unul sau mai multe fișiere/foldere
Gestionează documente trimise spre semnare
Gestionează listele de destinatari ai procesului de semnătură
Marchează temporal .TSD pe un singur fișier
Marchează temporal .TSD, .TSR și .M7M pe unul sau mai multe fișiere
Monitorizează procesele de semnătură în timp real
Primește documente pentru semnătură în aplicația ta mobilă
Salvează acreditările de semnătură de la distanță
GoSign acceptă toate semnăturile electronice definite de Regulamentul eIDAS
Ai nevoie de un certificat de semnătură QES?