GoSign
Discover the full potential of your digital signature and timestamp with a single tool.
GoSign Suite lets you manage all your signature processes.
Discover our integrated omnichannel user experience and begin your digital journey now!
You can sign, verify signatures and timestamp documents on your PC or smartphone, or directly online, and share documents with whoever you wish. With GoSign, you can move from a partly digital document signature process to a completely reliable, end-to-end digital process. GoSign is compatible with all types of digital signature and is available for all operating systems and devices.
Create, share and GoSign!
Unlock the full potential of your digital signature with a single tool.
Choose the best solution for your needs.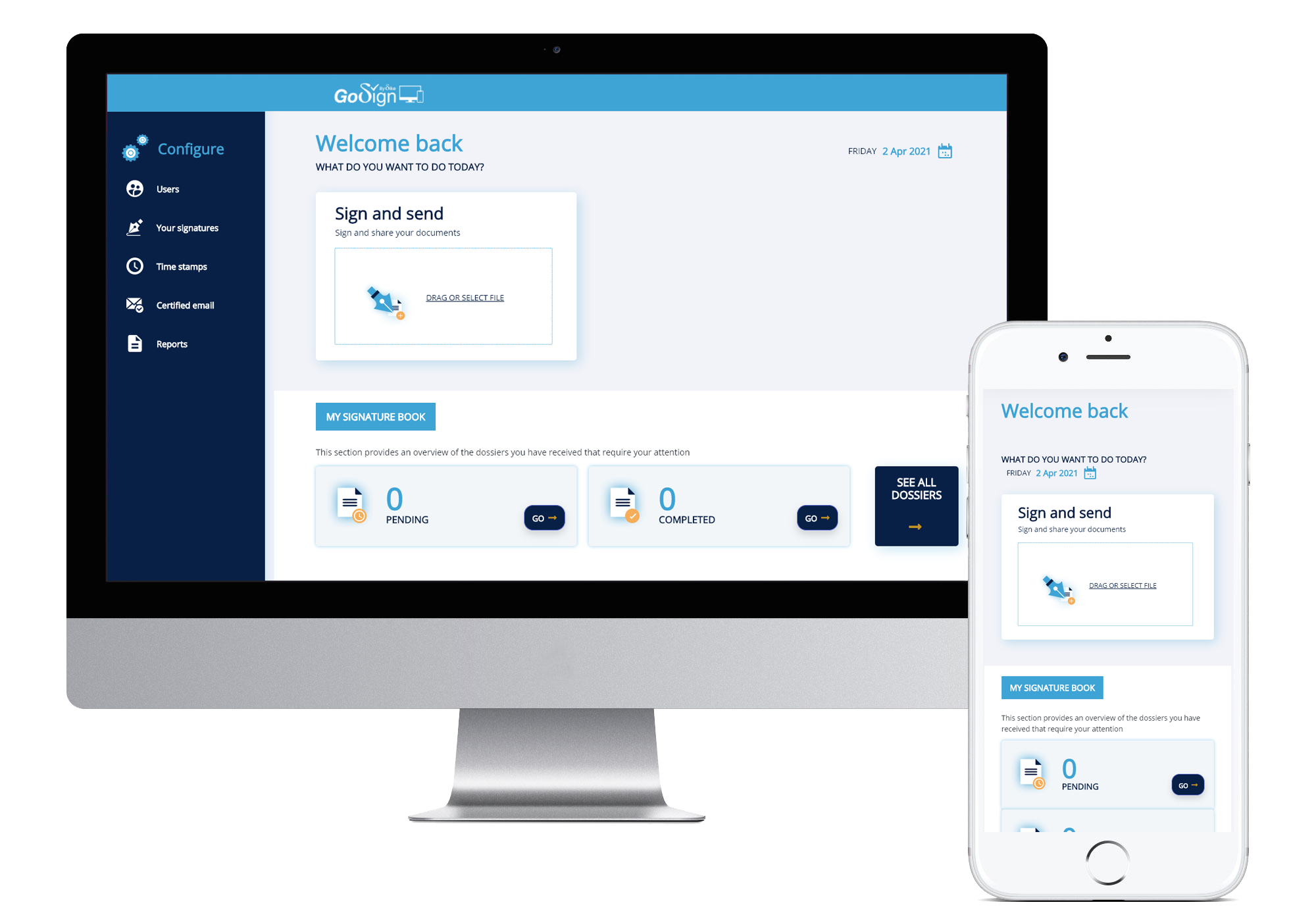 Want to sign easier and faster?
With GoSign Desktop, you can sign, verify and timestamp all your digital documents for FREE.
GoSign Desktop's main functions are also available on mobile.
Web App
Activate now your GoSign BUSINESS account and start signing and sharing documents directly online.
Sign all types of documents
Create signature workflows
Customize the message to be shown in the email
Place the timestamp on your documents, also the unsigned ones
Send documents out for other people's signatures
Engage users with all the advanced tools
Check all signed files in "My Signature Book"
GoSign BUSINESS is also available on mobile.
Login to your GoSign BUSINESS' account
Need to sign multiple files at the same time?
GoSign Key Controller
GoSign Key Controller (GKC) is InfoCert's ultimate solution for using and managing cloud certificates locally on your windows desktop app.

GoSign Key Controller
GoSign Key Controller (GKC) is the InfoCert ultimate solution to use and manage cloud certificate locally on your windows desktop app.
With InfoCert GKC users can store remote qualified certificate in a centralized way and use them to authenticate on the web and sign documents with the signature applications which interact with the local certificate store.
Everything can be done with full legal value under the eIDAS regulation, guaranteed by InfoCert, the largest Qualified Trust Service Provider in Europe.
All qualified certificates stored within GKC can be used:
within GoSign Desktop, to electronically sign any kind of document;
within any website, using supported browsers, to authenticate ;
with any other software applications which allow users authenticate or sign with certificate stored in Windows.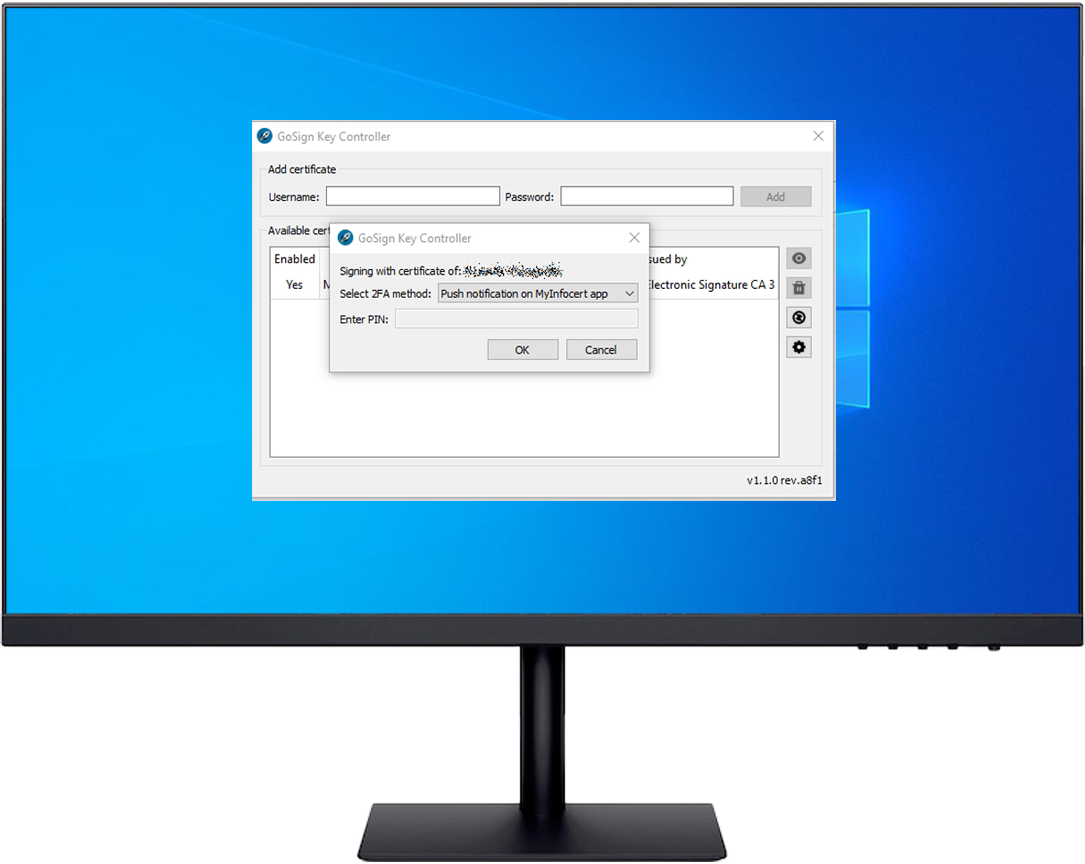 Qualified Certificates to store in GoSign Key Controller
Within our application is possible to store any kind of qualified certificate issued by InfoCert or one of our authorized partners.
Usually our certificates are characterized by:
User & Password to access the certificate saved in our cloud

PIN and OTP to confirm the digital signature
Once users store their certificates in our GKC locally, for any transaction they just need to enter the PIN and the OTP.
Moreover, certificates can be managed within the web portal mysign.infocert.it.
Features overview
Within each GKC, you can not only configure one or more certificates for authentication and/or signature, but you can also take advantage of other features:
Manage visibility

Hide/show certificates in the store "My" with just one click

Multi-account

Load one or more certificate with different scope (KeyUsage) and/or different security level (PIN or PIN+OTP), and use them where you want
Technical Features
GKC is Key Storage Provider provider for Microsoft Window CNG.
A KSP stores private keys used for signing securely by physical means –a Hardware Security Module (HSM) on InfoCert premises.
InfoCert's GKC KSP function as a typical "software KSP" in that they expose a local interface of cryptographic functions, while accessing keys in a totally different way.
GKC allows the use of signing/authentication keys resident on a remote HSM transparently, connecting securely across the web and managing the eventual second-factor authentication challenge.
System requirements
Distribution details
Why choose GoSign?
Enjoy an easy, intuitive user experience
Using GoSign increases your ROI by up to 177%
Associate and Separate timestamps in .TSD or .M7M format
Share signed documents by e-mail
Share signed documents by certified e-mail
Configure certified e-mail accounts
Countersign one or more files
Create signature processes
Create signature and initials images
Sign .p7m and .pdf on a single file
Sign and timestamp multiple files and folders with one click
Sign and timestamp on a single file
Sign and timestamp SIAdES or PAdES-LTV on one or more files/folders
Manage documents sent for signature
Manage signature process recipient lists
Timestamp .TSD on a single file
Timestamp .TSD, .TSR and .M7M on one or more files
Monitor signature processes in real time
Receive documents for signature on your mobile app
Save remote signature credentials
GoSign supports all electronic signatures defined in eIDAS Regulation
Do you need a QES certificate?