Our solutions
Digital Preservation
Overview
Archive your documents digitally:
leverage on a reliable storage eIDAS compliant
Digital preservation is the set of tools, processes, standards and strategies aimed at prolonging the existence of a digital object by maintaining it in a condition suitable for use, while protecting the object's identity and integrity, i.e. its authenticity.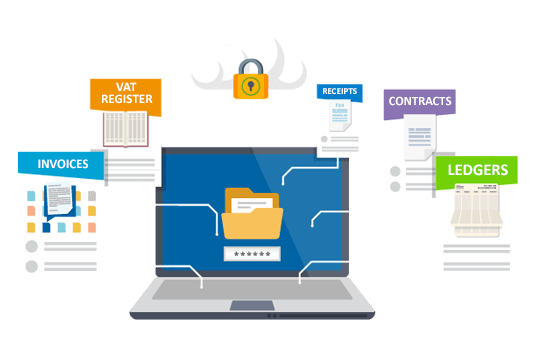 Safe LTA leverages on InfoCert's Trust Services to guarantee:
the integrity, availability and durability of documents and information over time;
document migration in standard and open formats to guarantee legibility over time.
Authorized users can access documents, download copies with associated metadata and search within their storage space.
At the end of the storage period established in the Agreement, the customer decides whether to delete the data or transfer it to another storage company.
LegalDoc comes with a user-friendly web front end (LegalDoc Web) that lets you perform all the tasks required to interact with the system (storage, search, dissemination, etc.)​.
A desktop client (LegalDoc Lite) is available to perform preservation tasks directly from the local Operating System.​
Out-of-the-box connectors are available to seamlessly integrate the preservation system with third-party applications (e.g. LegalCare for standard medical systems and formats).​
Standard web services are available as an interface for integration with external applications.​
LegalDoc can be adapted to the needs of any European country thanks to: ​
an architecture scalable on the regulatory requirements of individual countries; ​
the possibility of adding additional functions to document preservation alone (e.g. preservation of signature certificates). ​
Preservation Process
Infocert's preservation process manages document preservation by creating "information packages" in accordance with the Open Archival Information System (OAIS) standard and the requirements of national legislation.
These packages contain the document and all the information (metadata) concerning it: enriching it and making it available to the client over time.​
Use Cases
LegalDoc lets you digitally preserve many types of documents in a structured way.
BANKING

Preservation of Business Contracts

Thanks to its native integration with TOP, LegalDoc has been adopted by many InfoCert banking customers as their default system for the long-term preservation of business contracts signed by bank customers during onboarding processes.

PUBLIC BODIES

Preservation of Government Records

LegalDoc ensures public administration bodies comply with regulations and requirements for long-term electronic government records, guarantees electronic document integrity and availability over decades, and provides secure and immediate access to data.
Benefits
Here are just a few of the benefits of implementing InfoCert LegalDoc at your company
RELIABILITY
Authenticity, integrity, readability and availability of digital documents are guaranteed for a long time
EASY INTEGRATION
LegalDoc can easily be plugged into any existing IT infrastructure[
FULL CONTROL
Increased document process control
COST REDUCTION
Reduction of direct and indirect costs related to document management activities
SPACE SAVING
Reduction of physical space dedicated to document archiving
FAST RETRIEVAL
Quick retrieval of documents and the information contained in them
Business cases
Learn more about the huge potential impact of InfoCert's solutions
Industries
Our digital trust solutions meet the needs of companies in every market
Customer Success Stories
See how our solutions have helped our customers successfully digitize their business processes
News & Events
Latest InfoCert News
Digital Future Magazine
Find out the latest news on Digital Trust Services in our International Magazine.