Agora Labs joins InfoCert's Trust Factory with D-Health
The new solution activates health data at scale thanks to mathematically guaranteed privacy and AI-based data interoperability, powering innovation in Life Sciences and offering healthcare systems a new sustainability solution.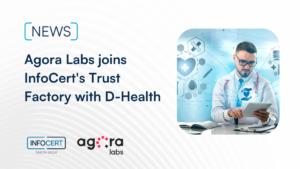 InfoCert  and Agora Labs announce a new partnership for the secure use and privacy guaranteed use of health data at scale.
D-Health brings together the Agora platform which allows access to distributed health data for provenly anonymous analyses and InfoCert's Digital Trust solutions in a decentralized infrastructure where Real World Evidence studies and AI development run in real time, at minimal cost, in a trusted and secure way.
Agora Labs thus enters Trust Factory; INFOCERT's Open Innovation program.
Challenges and opportunities in Real World Evidence
Health data accelerates biomedical innovation while lowering its costs and improving quality of care by optimizing clinical decisions and healthcare resource allocation. They are key to the wellbeing of individuals and societies at large, yet their use has often clashed with the equally essential principle of keeping clinical information truly confidential.
D-Health redefines this paradigm by combining the power of distributed analytics, mathematically guaranteeing privacy and legal traceability of data uses over distributed ecosystems to improve care, patient experience and the effectiveness of clinical research.
Data Trust
With D-Health, INFOCERT and Agora Labs bring to life Data Trust; integrated technologies that unleash health data through full, uncompromising compliance, delivering operational efficiencies and value to data controllers as they confidently activate their data to drive a new era in life sciences.
This is a paradigm shift already impacting not only healthcare, but other sectors in which health information is essential for competitive and sustainable communities and economies.