TODAY INFOCERT IS TAKING PART TO THE 7TH ANNUAL RETAIL BANKING TECHNOLOGIES SUMMIT
Today and tomorrow, Paolo Madella will be in Hotel Bristol Vienna for the the annual retail banking summit.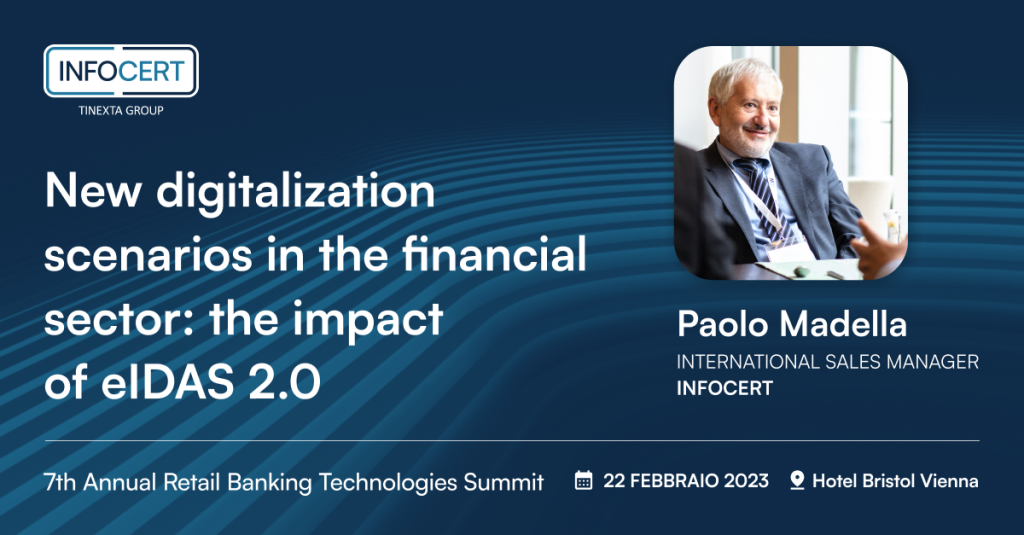 The summit is a premier event that brings together industry leaders, experts, and innovators to discuss the latest trends and advancements in retail banking technology. With a focus on digital transformation, cybersecurity, and customer experience, the summit is an opportunity for participants to gain insights into the latest technologies and strategies that are driving the future of retail banking.
Follow our panel: eIDAS 2.0 and new digitalization scenarios in the financial sector
Today  at 15.10. Paolo Madella, INFOCERT international sales manager, will have the opportunity to introduce all latest news on eIDAS 2.0, the review of the European trust services regulation.
Get ready to dive into the future of financial sector with INFOCERT, here is what we will talk about:
The impact of eIDAS 2.0;
The evolution of eIDAS, for European citizens and Trust Services Providers;
European Digital Wallet : a new prospective for banks and financial institutions;
INFOCERT as a reliable partner for local or multinational banks.