Electronic Signature
Sign digital documents wherever you are, with the same legal value as a handwritten signature.
What is an Electronic Signature (eSignature)?
The European Union defines three types of electronic signature: simple electronic signatures (SES), advanced electronic signatures (AES) and qualified electronic signatures (QES). Each type provides a different level of proof of identification and legal validity for the purpose of approving or executing a document transaction. Electronic signatures are portable and are supported by a technology that ensures their authenticity. All EU Member States conform fully to the latest regulations governing the legal effectiveness of electronic signatures.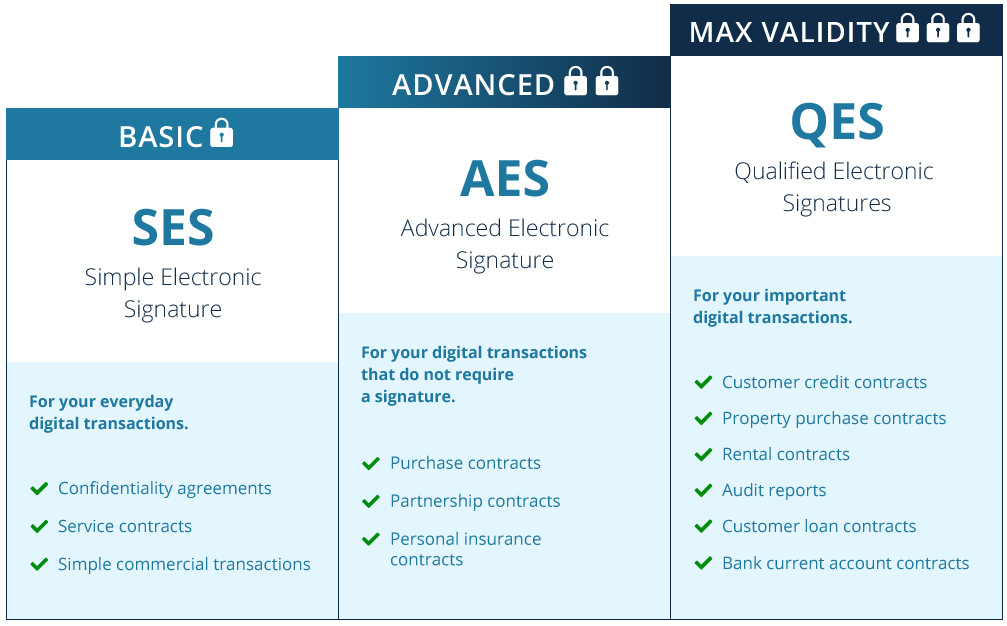 InfoCert QES provides the highest level of trust and security in accordance with eIDAS and Cloud Signature Consortium standards.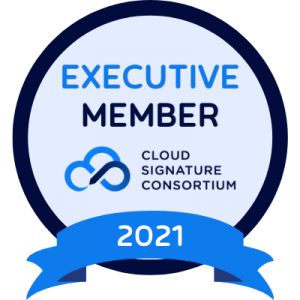 This badge certifies that InfoCert is a qualified member of the Cloud Signature Consortium for 2021.
What is a Qualified Electronic Signature?
A Qualified Electronic Signature is an Advanced Electronic Signature based on a qualified certificate and is generated by an IT procedure that ensures the authenticity, integrity and non-repudiation of electronic documents. The QES certificate is issued by a qualified trust service provider only on completion of a specific online identification process that proves the real identity of the signatory. According to the eIDAS (Electronic Identification, Authentication, and Trust Services) Regulation, a QES has the same legal validity as a hand-written signature and is recognised in all EU Member States.
InfoCert is the leading European Digital Trust Service Provider!
Benefits of a Qualified Electronic Signature:
Guarantees a high level of trust and security

Ensures full compliance with EU Regulation 910/2014 (eIDAS)

Streamlines approval processes
Qualified Electronic Signature
+ 10.700.000
Qualified Digital Signature issued
+ 800.000
Users use the InfoCert digital signature every day
+ 511.000.000
Signed documents every year
Did you know that you need special software to sign a document digitally?
Whether you have purchased a QES certificate or want to verify the validity of a signature on a document, GoSign Suite is the ideal way to manage all signature processes. Find out how to use the signature app on your PC, smartphone or directly online!
Sign digital documents from anywhere with full legal value
Frequently Asked Questions (FAQ)
The difference between "Advanced Electronic Signatures" and "Qualified Electronic Signatures" lies in the addition of a qualified certificate. This certificate is issued by a Qualified Trust Service Provider (QTSP), and guarantees the authenticity of the electronic signature as proof of the signatory's identity.
To sign a digital document with GoSign Desktop, you need an active Qualified Signature Certificate saved in a device (Smart Card or Business Key/Token USB). The certifier must be approved by the Official Digital Agency of your country.
When you add your signature in Adobe Sign, choose "Digital Signature". Then select "Cloud ID" and choose InfoCert from the list of providers. On redirection to InfoCert's authentication page, enter your e-mail and password. Once authenticated, type your signing PIN and confirm the transaction with the OTP.
Identification method
Online video call with our remote operator
Please note:
during the online video-identification session (available from Monday to Friday, 9:00-18:00 CET) you will need a currently valid passport or ID Card (Italian and German citizens only).