InfoCert at "Banking 4.0 digitalization and transformation conference", see what's happened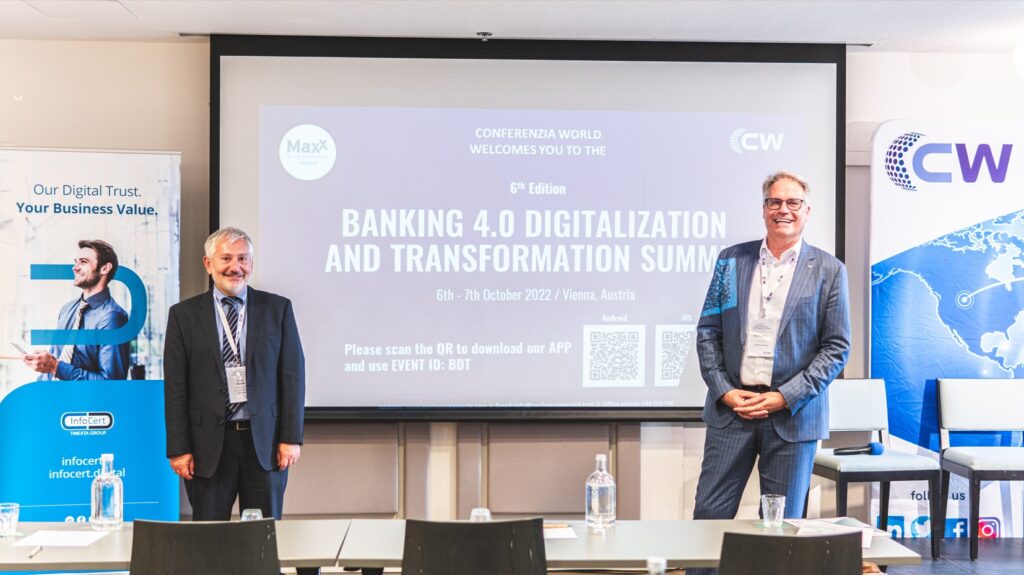 On October 6th, InfoCert took part in an important international congress for the financial environment: the Banking 4.0 digitalization and transformation conference, the event has been held by Conferenzia World, a world leader in corporate events, summits and forums for the top professionals in their fields.
Paolo Madella – Senior Business Development Manager at InfoCert, lead a speech during the day one titled: The Key to Digital Identity. DIZME decentralized identity: opportunities for banks and financial institutions.
During his talk he focused on 3 macro topics:
Traditional onboarding processes of prospect customers: expensive, inefficient and repetitive;
Decentralized ID: the present future;
Dizme: the new key to digital identity.
The acceleration of digital trends across banking, payments and e-commerce has propelled the industry to this pivotal moment so that they may remain dominant in a rapidly evolving ecosystem.
From new technology to new competition to heightened customer expectations, banks have become increasingly vulnerable. The summit aimed to help the stakeholders to develop understanding of new technologies in banking sector that allow the creation of digital assets and help in gaining a deeper understanding of the connection between customer, strategy and analytics.
Fill the gap between self-sovereign identity and eIDAS compliance
There have been numerous attempts made by public and private organizations to approach the issue of online identity, initial centralized solutions have given way to federated proposals and the trends of democratization and digital sovereignty have subsequently allowed the flourishing of a new approach, that of Self Sovereign Identity.
DIZME is the first decentralized identity network that combines the benefits of the SSI world as well as the compliance to eIDAS regulation perimeter.