InfoCert invites you to join "Rebooting the Web of Trust" the online event held by the DizmeID Foundation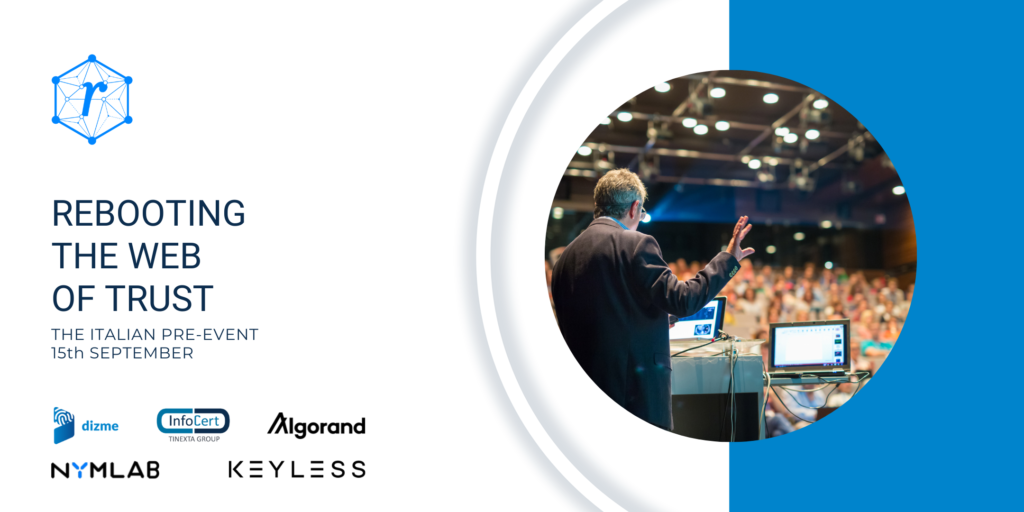 Next Thursday September 15th 2022 starting from 05:00 pm CET, InfoCert will be one of the speakers during the event organized by the DizmeID Foundation titled "Rebooting the Web of Trust".
Digital Identity, decentralized identity, decentralized finance, decentralized organization, crypto space, that's will be some of the main topics, thanks the contribution of several important representatives from different companies and institutes part of the DizmeID Foundation, will be addressed during the virtual round tables.
Further relevant is the concept of Self-Sovereign Identity (SSI), the aim of SSI is to give a citizen control over their personal and financial identity, whilst preserving anonymity where possible.
Decentralization in the virtual space has thrown up many interlinking ecosystems of risk and regulation. The event objective is to understand the key challenges and existing responses to them, as well as explore new avenues for resolution and progress.
"eIDAS 2.0: evolutions and prospectives of digital identity" | Igor Marcolongo (InfoCert), Daniele Citterio (InfoCert)
"Proposal for a decentralized trust framework enabling the regulation of crypto assets in DeFi applications" | Egidio Casati (Nymlab)
Roundtable with the experts Andrea Carmignani (Keyless), Pietro Grassano (Algorand), Igor Marcolongo (Infocert), Daniele Citterio (Infocert), Egidio Casati (Nymlab)
Q&A session