INDEX InfoCert named 'technology leader in 2022' by Quadrant Knowledge
The GoSign Digital Trust solution has been recognised in the SPARK Matrix analysis as a leader in the global signature software market.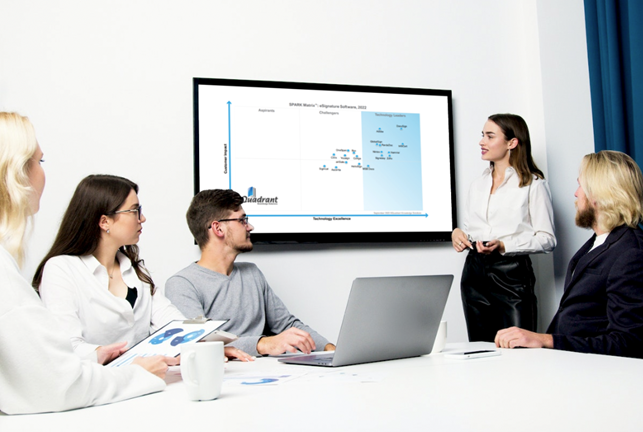 As previously anticipated in the press release issued by SPARK MATRIX, following the detailed analysis that looked at global market dynamics, key trends, vendor landscape and competitive positioning through Quadrant Knowledge Solutions' SPARK Matrix™,  InfoCert's GoSign Digital Trust solution has enabled the company to be named a 'Technology Leader in 2022'.
InfoCert's digital solution allows users to digitally create, sign, authenticate and archive agreements that previously had to be prepared and signed physically. Using GoSign, companies can move from a partially digital document signing process to a reliable end-to-end digital process
The software guarantees the authenticity, integrity and non-repudiation of digital documents, including e-mail messages, Word documents and portable document formats (PDF).
"The excellent positioning in the 2022 SPARK Matrix is a recognition of our efforts towards our customers, the quality of our solutions and, indirectly, the role of excellence played by Italy and the EU in regulating digital trust services. A Digital Signature is the more secure and convenient way to sign documents in terms of legal protection, but above all it is an enabler of operational efficiency for companies of all sizes. And it is also a key strategic enabler for ESG objectives: less paper, less frictional mobility and CO2, full traceability, compliance, and transparency of business processes. All of this explains the growing success of the digital signature market and the InfoCert GoSign solution."
Carmine Auletta, Chief Innovation & Strategy Officer of InfoCert